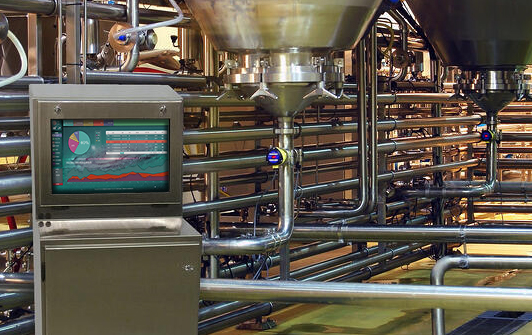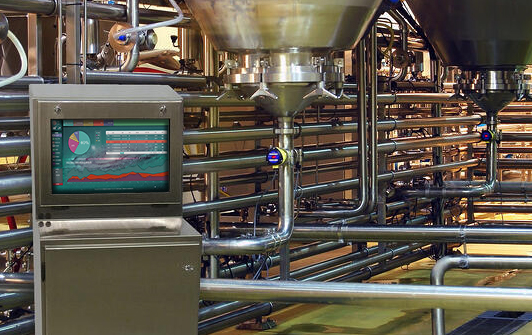 If you have ever watched the popular Food Network TV shows "Food Factory" and "Unwrapped" or Discovery Channel's "How It's Made," you were probably amazed at the intricate processes involved in producing food products, like biscuits, cotton candy, chocolate mints, or caramel apples. The 'best practices' procedure that goes into making a simple snack or treat is more involved than one would think, in fact, it is quite fascinating.
It is probably no surprise that extreme cleanliness is always a top priority for food processing facilities. All food products created in a manufacturing environment must meet very meticulous safety and health regulations. If the regulations are not strictly followed, the company can be fined or shut down until the manufacturing process is greatly improved.
On the plant floor, computers are vital for a successful operation and go hand in hand with the production of goods. Because of the meticulous cleaning and sterilization procedures that are required, operators must conceal the computer, monitor, printer, keyboard, and electronics in a stainless steel NEMA 4X computer enclosure.
The food processing industry must meet rigorous standards for sanitation and wash down. To meet the U.S. Food and Drug Administration – Code of Federal Regulations Title 21 sanitary standards, "Buildings, fixtures, and other physical facilities of the plant shall be maintained in a sanitary condition and shall be kept in repair sufficient to prevent food from becoming adulterated within the meaning of the act. Cleaning and sanitizing of utensils and equipment shall be conducted in a manner that protects against contamination of food, food-contact surfaces, or food-packaging materials."
How will this affect the computer enclosure?
Corrosive Environment – Food processing industries are a challenging environment for electronics to exist, but it is very easily managed with the correct NEMA 4X computer enclosure. An enclosure that is constructed out of 304 stainless steel (or 316 stainless steel) is preferable in a food processing plant. The stainless steel construction will protect against hose directed water and significantly resists corrosion (often caused by harsh cleaning chemicals). If the integrator fails to select the appropriate stainless steel workstation, the lifetime of the enclosure will be significantly reduced and will end up costing the company more money in the long run.
Cleanliness – During the sanitation process, it is imperative to choose a stainless steel NEMA 4X enclosure solution that will not harbor microbial contaminants (bacterial, viruses, organisms, or disease). The computer enclosure should feature a polycarbonate window, sloped top, lift off hinges on the doors, heavy duty gasketing, stainless latches, and clean edges to allow for excessive water runoff. Water/liquid penetration will cause the computer system to fail in a very short amount of time. Proper protection will keep the computer and other essential electronics operating flawlessly for many years to come. Stainless steel sanitary leg kits are also a popular feature for ensuring water does not collect under the enclosure.
The bottom line: an expensive computer system will not last long in a food processing environment if not properly protected in a NEMA 4X enclosure. Always do your diligence and research enclosure companies to see what options are available to meet your specific needs. Safety and sanitation are the keys for successful food preparation.

HAVE QUESTIONS?  LET US KNOW HOW WE CAN BEST ASSIST YOU! CONTACT AN 'ITSENCLOSURES EXPERT' AT 1-800-423-9911 -or- SEND US AN EMAIL:  INFO@ITSENCLOSURES.COM
https://itsenclosures.com/wp-content/uploads/2021/03/IS603027_Titan_NEMA_4X-stainless-steel-computer-enclosure-itsenclosures-icestation-food-processing-factory.jpg
335
532
Matt
https://itsenclosures.com/wp-content/uploads/2019/11/ITSENCLOSURES-CELEBRATING-35-YEARS-OF-EXCELLENCE-e1611954113367.png
Matt
2021-03-22 16:37:21
2021-03-25 11:37:59
NEMA 4X Computer Enclosures in Food Processing