ITSENCLOSURES, 2022
Mt. Pleasant, PA (February 28, 2023) – With almost four decades of industrial enclosure engineering and expertise under its belt, ITSENCLOSURES is happy to spotlight the NEMA 4X PB20 stainless steel printer enclosure. This state-of-the-art enclosure is designed specifically for the protection of barcode printers on a harsh factory floor. The PB20-4X enclosure is fabricated out of 304 stainless steel and measures 20" High by 20" Wide by 24" Deep.
The NEMA 4X printer enclosure boxes will protect against dirt, dust, hose directed fluids, and corrosive liquids, which are often in abundance in industrial and factory settings. On the interior of the enclosure, the PB20-4X offers an adjustable 20-inch extended sliding shelf, which provides easy access to the printer and media/labels. The sliding shelf can support printers weighing up to 80 pounds. A stainless steel hinged printer door, to retrieve printed materials, is available on the front door. Both doors provide waterproof gasketing and quarter turn compression latches.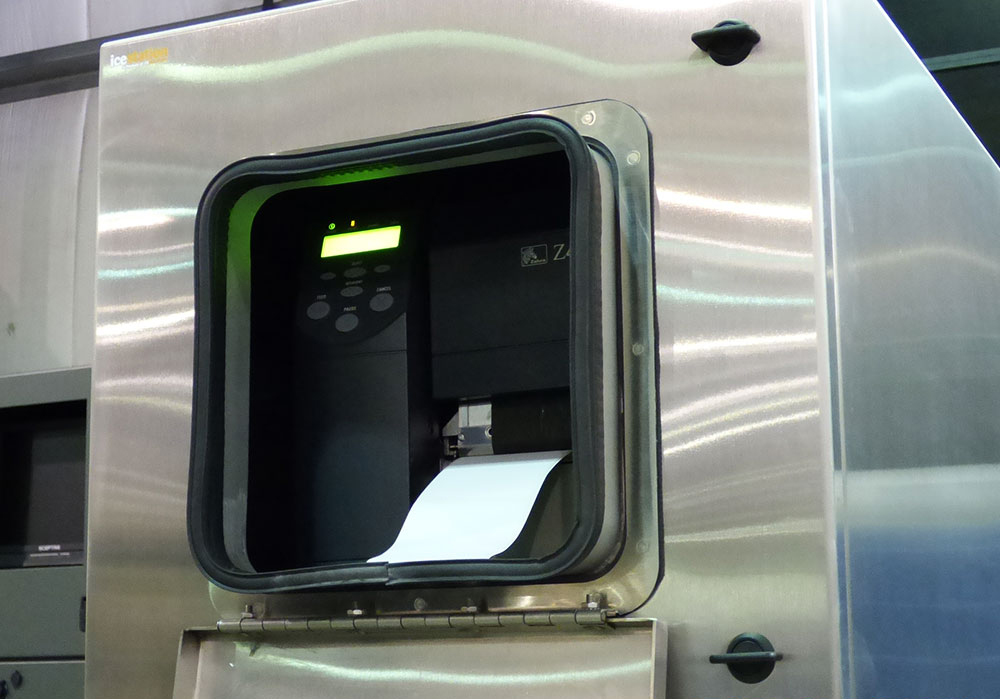 JT Spangler, CEO/Owner of ITSENCLOSURES, is passionate about the company's stainless steel enclosure offerings, "In the last 8 or so years, we have had great success with our NEMA 12 printer enclosure, which holds various brands of label printers, including Zebra, Brother, Sato, Dymo, and Rollo. We knew that a NEMA 4X version would also do quite well in the marketplace. The stainless steel printer box enclosure is a natural fit in our best-selling printer enclosure product line. We also knew that the NEMA 4X PB20 would be perfect for the pharmaceutical, beverage, and food industries."
Based on the printing application, ITSENCLOSURES' offers printer enclosures available in NEMA 12, NEMA 4 and NEMA 4X ratings. A customer can customize the printer enclosures with stationary or mobile pedestals at varying heights. Plus, various thermal management options are available, including a filtered fan system or vortex cooling unit. For a fee, a sealed cable entry gland can be installed in the rear of the enclosure for dust tight, waterproof wiring and cabling. A polycarbonate window can also be added in place of the hinged printer door.
"Our enclosures are tough and built to last. We take pride in the quality and sturdiness of each and every product that leaves our facility. I have visited factories that have been using the same IceStation enclosures for over 25 years. To me, that speaks volumes about our company and our heavy duty products," added Mr. Spangler.
ITSENCLOSURES fabricates the most durable electronics enclosures on the market and ships every product completely assembled and ready to use upon delivery. For more information on ITSENCLOSURES and their wide array of state-of-the-art enclosures, please visit www.ITSENCLOSURES.com, send an email to info@itsenclosures.com, or call 1-800-423-9911 to talk to an ITSENCLOSURES representative.
For more information, visit the PB20-4X product page
https://itsenclosures.com/wp-content/uploads/2022/01/PB202024-4X-Stainless-Steel-NEMA-4X-Printer-Enclosure-IceStation.jpg
916
1500
Matt
https://itsenclosures.com/wp-content/uploads/2019/11/ITSENCLOSURES-CELEBRATING-35-YEARS-OF-EXCELLENCE-e1611954113367.png
Matt
2023-02-28 13:16:37
2023-03-29 20:33:19
Product Spotlight: PB20-4X Printer Enclosure