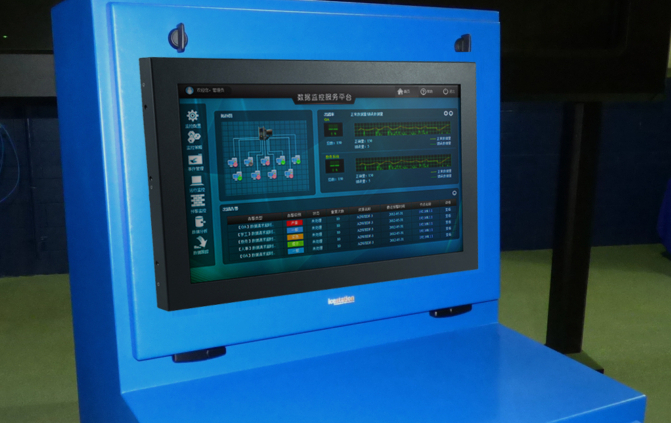 For almost four decades, ITSENCLOSURES (Integration Technology Systems) has been designing and building the most rugged enclosures on the enclosure marketplace. ITSENCLOSURES is proud to feature the NEMA 04 IceStation TITAN, one of the most popular freestanding computer enclosures in the TITAN product line. The TITAN, with its NEMA 04 rating, will protect against dust, dirt, grease, and hose directed water in an industrial setting. The enclosure can be installed both indoors and outdoors.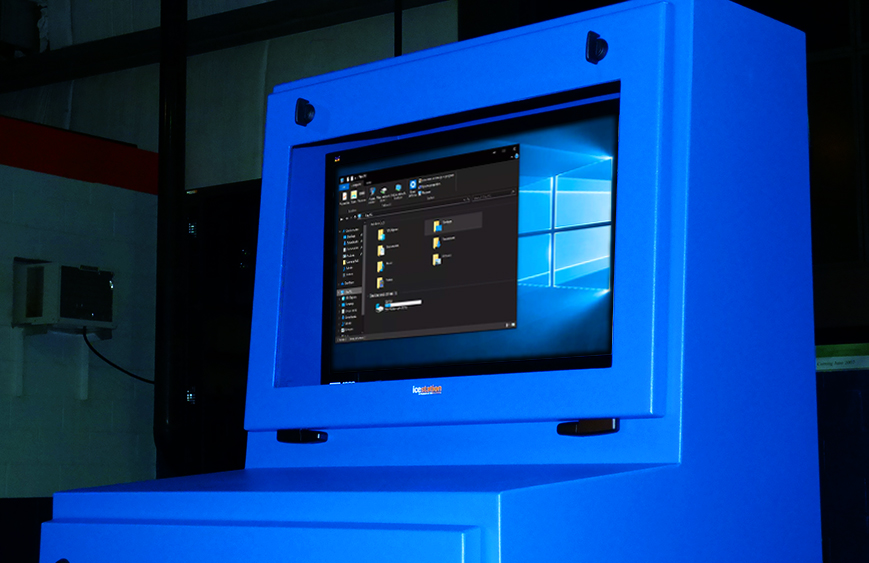 The NEMA 04 TITAN is constructed out of 14-gauge welded steel with 12-gauge doors, and stands at 60" high by 28" wide by 27" deep. The enclosure finish is a polyester powder paint and is available in blue, gray, or any custom RAL color (additional charge). The viewing window (hinged at the bottom) folds down and accepts up to a 24-inch monitor (tempered safety glass or polycarbonate viewing windows are available). An adjustable monitor shelf is standard for quick monitor installation. The shelf can also be tilted up (at a 90-degree angle) to install a monitor with the included VESA mounting holes. The doors feature quarter turn, knob-style compression latches and dual durometer EPDM gasket for additional protection from harsh elements. All doors have lift-off hinges for effortless removal. The rear door measures 51" high and is ideal for accessing the back of electronics stored in the enclosure.
"The NEMA 04 TITAN is a strong selling product in our popular TITAN family, which continues to be our best-selling enclosure line. All of our IceStation TITANs will protect customers' vital electronics and provide a comfortable and efficient workstation for factory and plant workers," said JT Spangler, Owner of ITSENCLOSURES. "After almost 40 years, we are still designing and fabricating the most heavy-duty enclosures around."
A work surface provides room for documents, folders, and writing utensils. A retractable keyboard drawer, below the work surface, is the perfect place to store and protect a keyboard, mouse, or hula point. When fully extended, the front of the drawer can easily fold down to provide an ergonomic wrist rest. The drawer measures 22.7" wide x 9" deep.
The bottom portion of the IceStation TITAN offers space to house a computer, printer, UPS, power supply, and additional vital electronics. The enclosure has adjustable shelf, attached to uni-strut, for easy placement of electronics, or sliding shelf brackets can be added to the shelf to slide out a printer or computer. Heavy-duty, swivel casters are a standard feature. When the enclosure is in its desired location, the 2 front casters lock into place. Bolt down legs or sanitary, stainless steel legs are also available as an add-on accessory.
The NEMA 04 TITAN can be customized with various accessories including rack mount rails, a sealed cable entry gland, 6 outlet power strip, industrial keyboards, industrial mouse, or various thermal management options, such as a heat exchanger, air conditioners, or an outdoor filtered fan system with thermostat and filters.
ITSENCLOSURES fabricates the most durable electronics enclosures on the market and ships every product completely assembled and ready to use upon delivery. For more information on ITSENCLOSURES and their wide array of state-of-the-art enclosures, please visit www.ITSENCLOSURES.com, send an email to info@itsenclosures.com, or call 1-800-423-9911 to talk to an ITSENCLOSURES representative.
For more information, visit the NEMA 4 TITAN product page!
https://itsenclosures.com/wp-content/uploads/2020/12/NEMA-4-IceStation-TITAN-Computer-Enclosure-panel-mount-door-e1642797449327.jpg
487
671
Matt
https://itsenclosures.com/wp-content/uploads/2019/11/ITSENCLOSURES-CELEBRATING-35-YEARS-OF-EXCELLENCE-e1611954113367.png
Matt
2023-04-01 06:14:40
2023-04-04 07:21:07
Product Spotlight: NEMA 04 TITAN