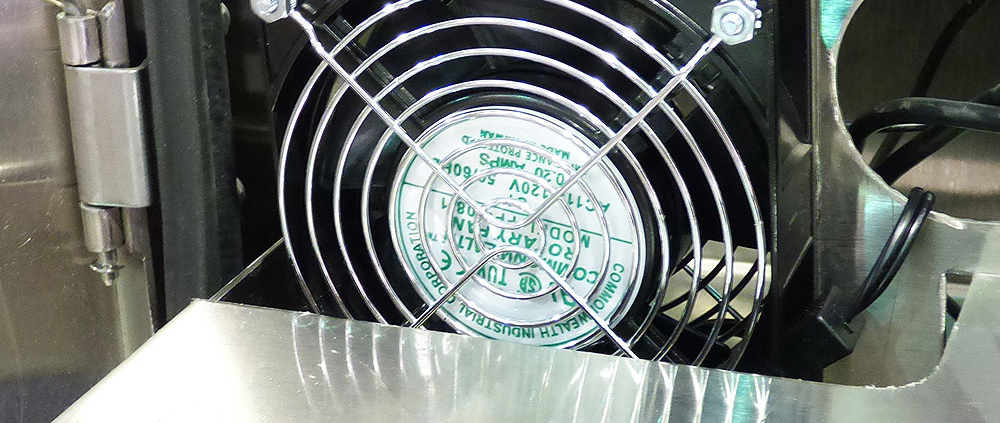 In an industrial setting, a dust-tight, waterproof enclosure can protect a computer, a monitor, a printer, a keyboard, and various other electronics from harsh elements, like splashing fluids, dust, dirt, lint, and fibers in the air. However, while the enclosure is keeping materials from entering the cabinet, it is also preventing heat from properly exiting. The build-up of heat – on the inside of the enclosure – can slowly damage electronics. Thermal management (like a filtered fan system) will keep the overall heat load to a minimum by removing excess heat. Plus, filters will ensure particulate matter is kept outside of the enclosure and away from electronics.
What fan system will work for you and your specific environment? What are the differences between outdoor and indoor filtered fan systems?
Indoor Filtered Fan: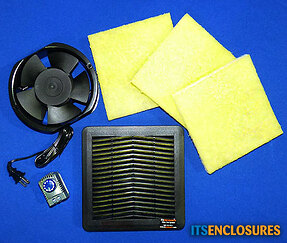 Filtered fan systems are designed to force hot air out of an enclosure. With forced air, a filtered fan system will aid in 'cooling' down the inside of an enclosure. Without some type of cooling, heat build-up will negatively affect electronics and cause them to work less effectively or even fail completely.
Filtered fan systems also create a positive pressure on the inside of the enclosure and keep dust and damaging contaminants from harming electronics. Depending on the size of particulate matter in the air, a filter can be used in varying thicknesses and can be made of different materials, including aluminum and synthetic fiber. For a fan to run properly, filters should be cleaned or replaced on a regular basis. The gasket seal around the fan and exhaust housing will also keep dust and splashing water from entering the cabinet.
Filtered fan systems are more economical than most thermal management systems and installation is rather simple. Indoor fans should only be used in areas with light splashing or dripping of liquids. Avoid using 'indoor' filtered fan systems in wash-down applications as they do not maintain a waterproof seal. In addition, harsh cleaning chemicals have the potential to destroy filters and can even eat away at fan blades.
Outdoor Filtered Fan:
If deploying an enclosure outdoors (in sun or shade) or in a wet, wash-down environment, consider how much precipitation/liquid is going to be in contact with the fan. Outdoor filtered fans often have a lockable cover to offer protection from harsh elements and will shield the fan from hose directed fluids. The exhaust is usually located on the bottom of the fan system, to prevent water from penetrating the inside of the enclosure. In order for the fan system to fail, an operator would literally have to spray water upwards into the fan housing. The outdoor filtered fan assembly is usually sloped for proper runoff to occur during wash-down or in the event of heavy precipitation, like blowing rain or sleet. Filters should also be changed regularly, and most can be quickly changed from the outside of the enclosure. Some filters are even moisture resistant. Other considerations include the materials used for the blades and the body of the fan. Plastic parts will withstand exposure to various types of cleaning products/liquids and harsh UV light.
Recirculating Fan: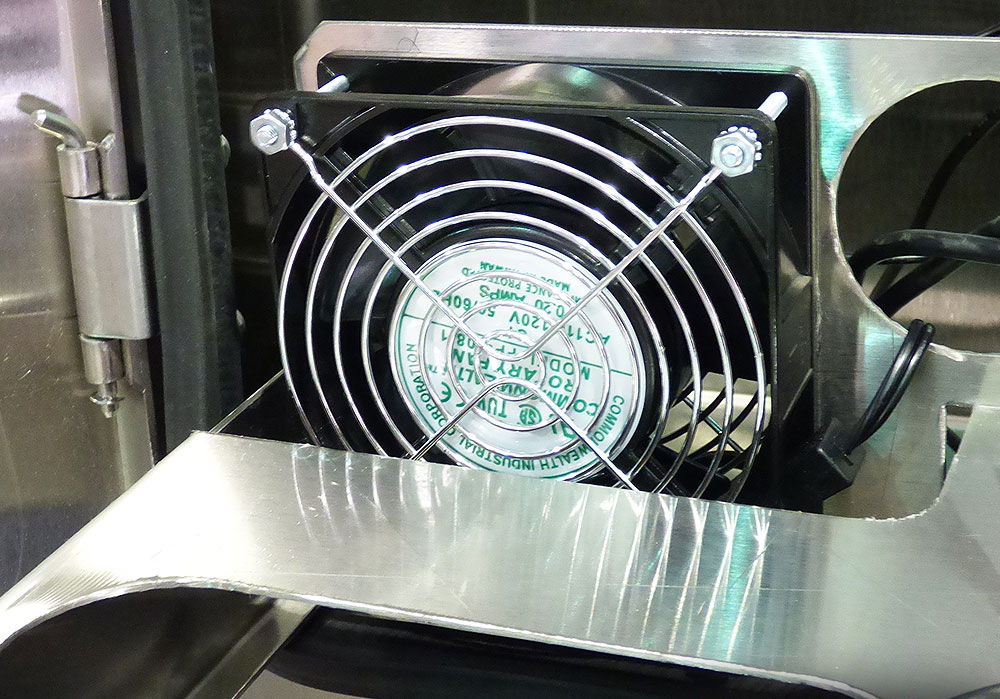 A third option is a recirculating fan. This simple fan system will help to distribute and circulate the air inside of an enclosure to help electronics run smoothly. These fans do not have an exhaust, nor do they require any filter media. Recirculating fans can also be used in conjunction with enclosures that are exposed to the elements with vents or louvres. Recirculating fans are ideal for NEMA 4 or 4X enclosures with electronics that will not produce a large amount of heat, such as monitors and computers. These fans can usually be attached to an enclosure's uni-strut and do not require cutting into the enclosure body.
Thermal management is necessary to remove heat that is produced by electronics concealed in an industrial enclosure. A thermostat should also be used to regulate the temperature inside of the enclosure and to eliminate the fan from running 24/7. It is important to note that most fans can be installed by expertly cutting into the enclosure with a provided cutout template. Most of the cutouts are in the shape of a square. The fan and/or exhaust can then be snapped into place and screwed into the enclosure.
Additional aspects to consider include the voltage of the fan, the noise level of the fan, the minimum/maximum ambient temperature, and the fan CFM (cubic feet per minute) rating. For an accurate recommendation, work with an enclosure expert to configure the best solution. (cooling worksheet)
While simple in operation, filtered fan systems can save electronics from failure!

HAVE QUESTIONS?  LET US KNOW HOW WE CAN BEST ASSIST YOU! CONTACT AN 'ITSENCLOSURES EXPERT' AT 1-800-423-9911 -or- SEND US AN EMAIL:  INFO@ITSENCLOSURES.COM
https://itsenclosures.com/wp-content/uploads/2019/07/IO29-4X-flat-panel-monitor-enclosure-stainless-steel-icestation-itsenclosures-fan.jpg
688
1000
Matt
https://itsenclosures.com/wp-content/uploads/2019/11/ITSENCLOSURES-CELEBRATING-35-YEARS-OF-EXCELLENCE-e1611954113367.png
Matt
2021-07-16 15:38:44
2021-07-16 16:38:49
Filtered Fan Systems for Computer Enclosures