Mt. Pleasant, PA (February 18, 2020) For over 35 years, ITSENCLOSURES has been producing the most robust printer, monitor, and computer enclosure solutions on the market. Every IceStation product is made in the USA, built to last and protect, and will arrive assembled and ready to use; just plug & play.
The latest IceStation industrial computer enclosure is the IO352813-4X stainless-steel monitor/computer enclosure, which was designed specifically for the food, beverage, and pharmaceutical industries in mind. NEMA 4X enclosures will defend against dust, dirt, hose directed fluids, corrosive materials, and most weather conditions.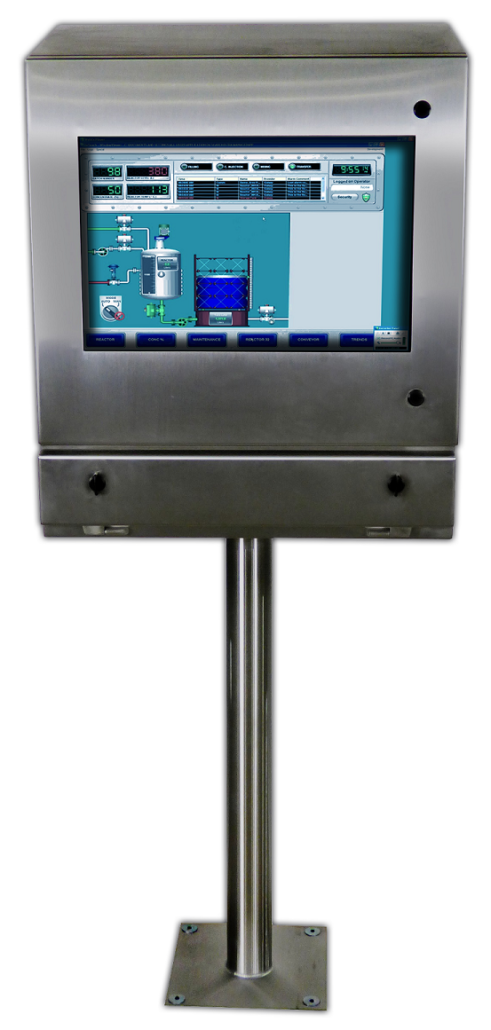 ITSENCLOSURES IO series enclosures are designed for use with flat panel monitors and thin client/small form computers. The computer enclosures are the perfect solution for limited space environments.
The NEMA 4X IO35 computer enclosure is formed and fully welded with type 304 stainless-steel and a vertical #3F finish. This enclosure features a built-in keyboard drawer to store a desktop or industrial keyboard and mouse. The roll-out keyboard tray – with two quarter turn compression latches – measures 3″ High by 22.62″ Wide x 9.88″ Deep.
The IO35-4X measures 35" High by 28" Wide by 12" Deep with a 25.5" diagonal window measuring 13.75" High by 21.5" Wide. ITSENCLOSURES offers tempered safety glass or polycarbonate window options for the front door. The stainless-steel door panel includes concealed hinges and two quarter turn screwdriver style latches (key locking latches are also available). A monitor sized up to 25-inches can be installed to the internal VESA mount, which is part of the vertical support bracket. The bracket is used to tip out and install the PC/monitor. The chassis includes a 100-cfm re-circulating fan.
"The IO35 is the modern brain-child of our sales team and engineering team with very valuable customer influence. I love that our employees work together to find workable solutions which resonate with our customers. This new stainless-steel IceStation product incorporates pieces of our best-selling products and I am quite pleased with the functionality of the enclosure," stated JT Spangler, Owner of ITSENCLOSURES, "We will continue to develop and manufacture additional heavy-duty units throughout 2020. Our dynamic products continue to innovate and advance beyond our wildest expectations and we feel that solid growth is in our near future."
For installation, the heavy-duty IO35-4X computer enclosure can be affixed to a wall with a mount, a stainless-steel bolt down pedestal, or a stainless-steel mobile pedestal with swivel castors, which can be locked into place. A Roxtec sealed cable entry gland can be installed – in various spots on the enclosure – for the ingress and egress of power cords, wires, and cables. ITSENCLOSURES also offers surge protectors, industrial keyboards, and thermal management options, like stainless-steel vortex heat exchangers for cooling or an electric thermal heater for refrigerated environments.
ITSENCLOSURES has two additional stainless-steel monitor/computer enclosures; the IO28-4X (measuring 28″ High x 26″ Wide x 8″ Deep) for a 22" monitor and the IO29-4X (measuring 29″ High x 28″ Wide x 12″ Deep) for a 25" monitor.
"Computers, printers, monitors, and other essential electronics are protected in our IceStation NEMA rated products. As we always say, our monitor, printer, and computer enclosures are built-to-last and we stand by that promise," added Mr. Spangler.
IceStation by ITSENCLOSURES has over 3 decades of experience in successful printer, monitor, keyboard, and computer enclosure deployments and offers a wide variety of 'built-to-last' products.
For more information and to watch the product video, visit the IO35-4X product page
---
About ITSENCLOSURES
ITSENCLOSURES builds the strongest, NEMA rated computer enclosures, which are ideal for all environments where dust, dirt, and exposure to liquids or corrosives are present. The IceStation line of products allow the use of computers, printers, keyboards, and monitors in the harshest locations and will protect a company's investment and maximize the lifetime of the electronics protected.
To learn more about ITSENCLOSURES, contact the Sales Department: 1-800-423-9911 –or– info@itsenclosures.com
###
https://itsenclosures.com/wp-content/uploads/2020/02/IO35-4X-monitor-pc-enclosure-keyboard-drawer-icestation-itsenclosures-e1642797945304.jpg
420
750
Matt
https://itsenclosures.com/wp-content/uploads/2019/11/ITSENCLOSURES-CELEBRATING-35-YEARS-OF-EXCELLENCE-e1611954113367.png
Matt
2020-02-18 08:24:45
2021-12-10 11:56:41
ITS Announces IO35-4X Computer Enclosure