Mt. Pleasant, PA (January 27, 2021) – Innovating in the field of industrial enclosures since 1985, ITSENCLOSURES announces a newly designed IceStation enclosure: the PB56-12 – NEMA 12 freestanding Printer Enclosure.
The printer enclosure is constructed to shield laser-jet printers or label barcode printers on harsh and dirty factory floors. The PB56-12 enclosure is fabricated out of 12-gauge painted steel and measures 56" high by 26" wide by 26" deep. The maximum printer dimensions for the PB56-12 are 14″ high x 20″ wide x 23″ deep in the top of the enclosure and 25″ high (19.5" if utilizing a filtered fan system) x 20″ wide x 23″ deep in the bottom of the enclosure. The bottom portion can also be used as storage for labels, paper, ink, or other necessary printer materials.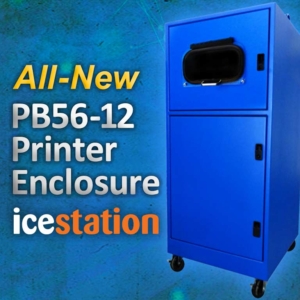 The IceStation enclosure has lockable lift and turn compression latches on the front and rear steel doors (12-gauge) for security and protection from harsh elements. The top door comes standard with a hinged printer door – which maintains a tight seal via gasket and forceful industrial magnets – to retrieve labels or documents. A second hinged printer door can be added to the bottom door for an additional charge.
The top interior of the enclosure features an adjustable 22" extended sliding shelf, which provides access to the printer to switch out labels, paper, ink, or other media. The sliding shelf can be adjusted vertically and will support printers weighing up to 100 pounds.
"As printing applications become more and more prevalent in factories, plants, and industrial facilities, we found that manufacturing enterprises need heavy-duty, industrial printer enclosures. The PB56-12 enables an end user to have one or two printers in a freestanding enclosure and the overall height makes it easy to retrieve printed materials. At ITSENCLOSURES, our goal is to continue to innovate and create products that are useful in industrial environments. Versatile enclosures are the cornerstone of our core business and we guarantee all of our products forever and a day," said JT Spangler, Owner and President of ITSENCLOSURES.
The freestanding enclosure has a gasketed, tool free split panel for dust tight cable entry and industrial grade casters, which lock in the front and swivel in the rear. If the enclosure is required to be bolted to the floor, a set of 4.5" high bolt-down legs can replace the castors. Lift eyes, on the top of the enclosure, can also be used to transport the enclosure into place.
Numerous thermal management options are available for the PB56 printer enclosure. The most popular cooling device is the filtered fan system, which creates positive pressure on the inside of the enclosure and prevents dirt or dust entry. For cooler environments, a thermostatically controlled heater can be installed to maintain ideal operating temperatures.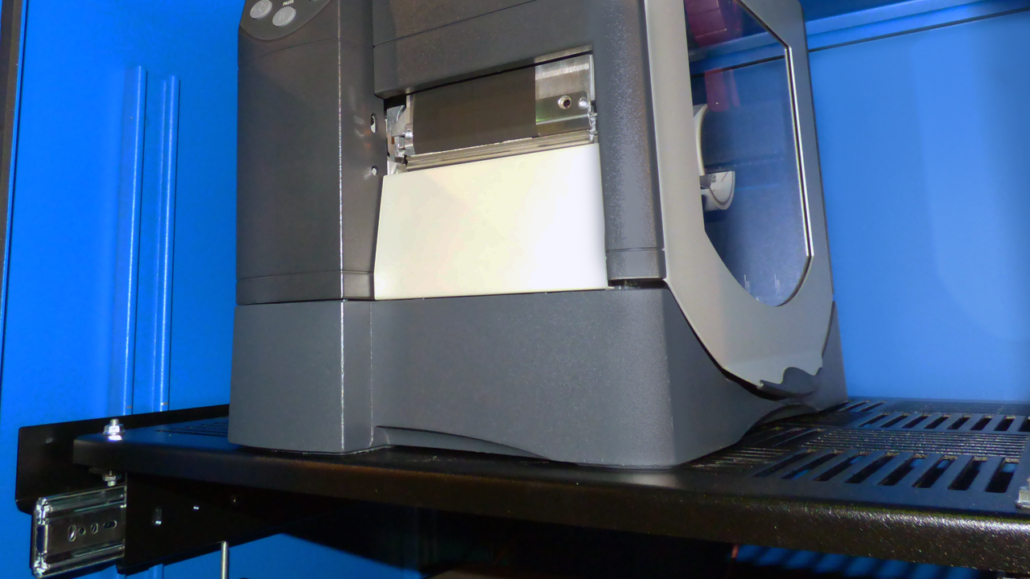 "Our printer enclosures will protect a customer's printer and significantly limit downtime. Quality and durability make ITSENCLOSURES stand out from the competition. We simply make the best, most durable enclosures in the United States and we do it with American steel and an American work force," added Mr. Spangler
The freestanding printer enclosure is coated with a polyester powder paint finish and available in blue, gray, or any custom color found on the RAL color chart. The PB56-12 offers NEMA 12 protection, meaning the printer enclosure will safeguard against dust, dirt, light/splashing fluids, lint, grease, and fibers in the air. It is built to withstand harmful elements from entering the enclosure.
Designing durable enclosures for over 35 years, ITSENCLOSURES (Integration Technology Systems) manufactures the best electronics enclosures on the market and ships every product completely assembled and ready to use upon delivery. Every product is fabricated in Western Pennsylvania, outside of Pittsburgh.
PB56-12 Product Page: Click Here
For more information on ITSENCLOSURES and the wide array of state-of-the-art enclosures, please visit www.ITSENCLOSURES.com, send an email to info@itsenclosures.com, or call 1-800-423-9911 to talk to an ITSENCLOSURES sales representative.
###
https://itsenclosures.com/wp-content/uploads/2021/01/PB56-12-Printer-Enclosure-ITSENCLOSURES-ICESTATION-NEMA-12.jpg
720
1286
Matt
https://itsenclosures.com/wp-content/uploads/2019/11/ITSENCLOSURES-CELEBRATING-35-YEARS-OF-EXCELLENCE-e1611954113367.png
Matt
2021-01-29 14:02:43
2021-01-29 14:31:46
New Freestanding Printer Enclosure at ITSENCLOSURES