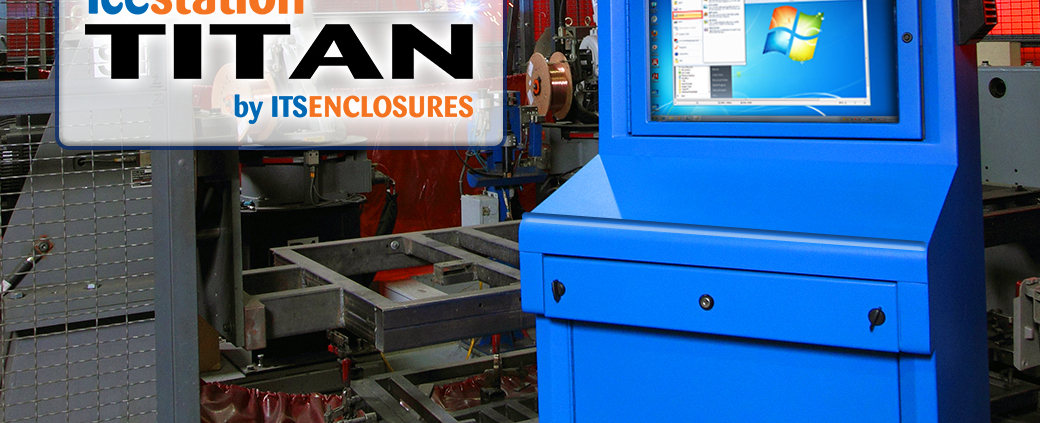 On a factory or manufacturing floor, computers, monitors, printers, and peripheral devices are necessary to perform essential daily tasks, like order entry or ticketing. Important electronic equipment demands security and protection from extreme heat (or cold), falling dirt, dust, and splashing fluids. NEMA rated industrial enclosures or cabinets are the perfect solution to safeguard the process and extend the electronics' useful life. Find an industrial enclosure manufacturer with valuable products and accessories that have been field tested in varying rough environments.
Some common business areas include:
Food and Beverage Industries
Solar Battery Storage
Pharmaceutical Processing
Automotive Manufacturing
Telecommunications
Paper and Pulp Industries
Petro-Chemical Processing
Mining and Mineral
Printing
Hospitals and Laboratories
Metals and Foundries
Transportation or Traffic Control

What does an industrial enclosure accomplish?
If a company requires vital electronic equipment to perform properly in an industrial setting, choose an enclosure with a proven track record. A business cannot afford a computer system failure due to a dirty and dusty environment. Durable, heavy-duty enclosures will protect computers, printers, monitors, and related peripherals and prevent unnecessary delays in production. In the end, downtime can be far more costly than the initial investment in the enclosure and equipment.
Quality, functionality, reliability, and outstanding craftsmanship are attributes that separate well-made enclosures from sub-par competition. When exploring enclosure fabricators/suppliers for a specific application, perform the proper research to find an enclosure that meets at least a NEMA 12 rating (4 and 4X are also common). If the enclosure is rated NEMA 12, it will protect against dust, dirt, splashing or dripping fluids, grease, lint, and fibers in the air.
Is thermal management necessary?
When deploying the appropriate enclosure, consider the necessary thermal management to keep the electronics operating at the optimum temperatures. Computers, printers, monitors, and peripherals can generate a large amount of internal heat. This heat will raise the overall temperature – on the inside of sealed industrial enclosure – to levels higher than the recommended operating range of the equipment. Extreme temperatures may result in component failure. Options for thermal management cooling include filtered fan systems, air conditioners, heat exchangers, and vortex cooling units. Most companies will supply a thermal management worksheet to find the best solution for cooling (or heating, if necessary).
What type of accessories are needed?
Off-the-shelf computer or printer enclosures come standard with accessories which are necessary to create an effective workspace. However, customizing the industrial enclosure, specific to the application, will provide the most efficient workstation! Enclosure accessories to consider include: mobile or bolt-down pedestals, tool-free rear split panel (with gasket) or a cable entry gland for cable access and management, lockable doors for security, panel mount doors for touchscreen or panel mounted monitors, adjustable shelving or sliding shelving for maximum flexibility of positioning equipment, industrial keyboards and hula pointing devices, keyboard/mouse/scanner USB connectors, stationary tray for a keyboard and mouse, adjustable rack channel to install rack equipment, industrial-grade castors (lockable in front and swivel in rear) or bolt down legs, and a hinged printer door for quickly removing printed labels or documents.
In a wide range of rugged environments, NEMA rated industrial enclosures provide protection and organization for electronic systems. High-impact products must meet or exceed the most rigorous industry standards. When shopping for the best industrial enclosure, find an enclosure company that will stand behind its products and provide a solution that will perform perfectly forever and a day!

HAVE QUESTIONS?  LET US KNOW HOW WE CAN BEST ASSIST YOU! CONTACT AN 'ITSENCLOSURES EXPERT' AT 1-800-423-9911 -or- SEND US AN EMAIL:  INFO@ITSENCLOSURES.COM
https://itsenclosures.com/wp-content/uploads/2021/01/icestation-titan-itsenclosures-computer-enclosure-keyboard-drawer-monitor-printer-enclosure-e1642797411782.jpg
519
750
Matt
https://itsenclosures.com/wp-content/uploads/2019/11/ITSENCLOSURES-CELEBRATING-35-YEARS-OF-EXCELLENCE-e1611954113367.png
Matt
2021-01-19 11:50:39
2021-01-19 12:23:21
Why Manufacturing Facilities Need Industrial Enclosures