Senior Flexonics Pathway was in search of a mobile, industrial computer enclosure for its workers.
COMPANY SYNOPSIS:
In business since 1902, Senior Flexonics Pathway (SFP) has two locations in the United States: New Braunfels, Texas and Lewiston, Maine. According to SFPathway.com, the company has been a pioneer in delivering solutions to movements in high pressure and temperature process equipment. Senior Flexonics provides custom designed expansion joints, dampers, and HVAC for piping and ducting applications.
HOW DID THEY FIND ITSENCLOSURES:
When researching stand-up enclosures for their plant, Senior Flexonics Pathway found ITSENCLOSURES on the Internet. While at ITSENCLOSURES.com, SFP reached out to the ITS sales department via the online chat tool. Originally, SFP was interested in a unit that could house a touchscreen monitor. After receiving a follow-up email from ITSENCLOSURES, Patrick Miller, the IT Manager, requested pricing on a stand-up enclosure and decided against deploying a touchscreen.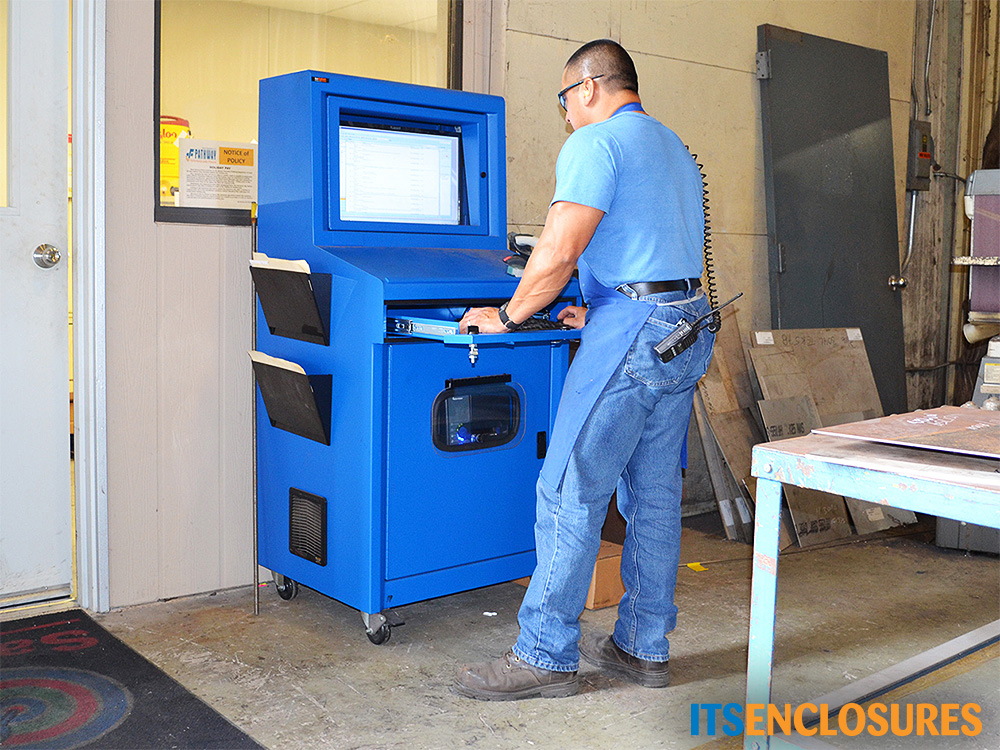 PROJECT:
Senior Flexonics Pathway was in search of a mobile inventory computer enclosure for its workers. SFP wanted to save employees from walking to different parts of the plant to perform tasks. According to Patrick Miller, IT Manager at Senior Flexonics Pathway, SFP wanted to provide employees with the equipment to take inventory, print, labels and scan barcodes at the point of where the work is actually being done, on the manufacturing floor.
CHALLENGES:
Senior Flexonics sought an all-in-one solution that would allow all of their complex systems to work together in one enclosure. SFP's manufacturing environment is quite harsh, and required a heavy duty NEMA 12 enclosure solution.
SOLUTION:
Senior Flexonics Pathway purchased a number of IceStation TITAN (IS603027-12) computer enclosure workstations. The freestanding enclosure solution consisted of 24" extension sliding shelf brackets and a hinged printer door. The added accessories were installed for the barcode printers that are used throughout the workday. The hinged printer door makes it simple to retrieve labels and the sliding shelf brackets create an efficient way to change the media and load additional labels. In order to regulate the temperature inside of the enclosure, a 200 CFM filtered fan system, with thermostat, was installed.
INSTALLATION DATE:
Senior Flexonics purchased the NEMA 12 computer enclosures in the spring of 2015 to be installed in the New Braunfels, TX and Lewiston, ME locations. The units are deployed in key areas of the production floor, including the Metal Bellows manufacturing area, Parts Distribution, and Burn Table work centers.
SUMMARY OF PROJECT:
Mr. Miller summed up the success of the project, "The products that Senior Flexonics Pathway makes [are] in some of the harshest environments in the world. IceStation computer enclosures were a perfect fit for our company! ITSENCLOSURES products are rugged and well designed. [The TITANS] have given our shop employees the ability to access internal system applications and to speed up the processing of part issues." He continued, "The flexibility has been a definite plus, as the IceStation [units] have been really easy to adapt to our specific needs. We have a wireless computer inside of the unit, along with a wireless barcode printer. Our employees are able to do part issues, print barcodes labels, check drawings, review hotlists, welding procedures, and to clock in and out of jobs."
"We've tested other stand-alone units, and IceStation has been an exceptional addition to our facility!"

ADDITIONAL PRODUCT INFORMATION:
HAVE QUESTIONS?
Let us know how we can best assist you! Contact an 'ITSENCLOSURES expert' at 1-800-423-9911 -OR- send us an email: info@itsenclosures.com
https://itsenclosures.com/wp-content/uploads/2019/08/IceStation-TITAN-Computer-Cabinet-Workstation-PC-Enclsoure-ITSENCLOSURES.jpg
1181
1772
Matt
https://itsenclosures.com/wp-content/uploads/2019/11/ITSENCLOSURES-CELEBRATING-35-YEARS-OF-EXCELLENCE-e1611954113367.png
Matt
2020-01-06 16:19:52
2020-04-01 16:51:04
Senior Flexonics Pathway - Computer Enclosure