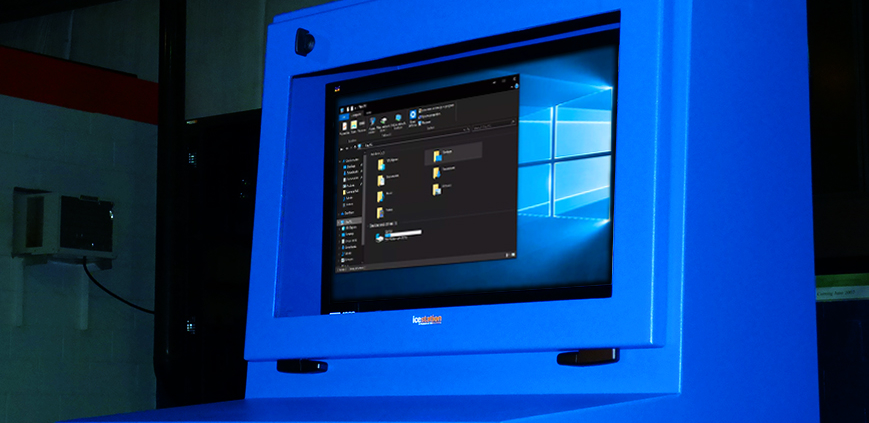 What is the most effective way to determine what NEMA rated computer enclosure is best for a harsh facility?
In an industrial environment or machining factory, protecting a PC, printer, monitor, and related peripherals from dangers – like dirt, dust, grease, humidity, liquids and harmful corrosives – is critical. Performing a simple Internet search will display multiple computer enclosures from many differing manufacturers. It may be a difficult task to find an enclosure which is best suited for multi-purpose use in an unforgiving plant setting.
From critical processes to equipment operation to simply checking email, end users will not have to worry about downtime if the appropriate workstation is specified in the initial plans. The steps below point out important items for an organization to consider, which will simplify the process of choosing the best computer enclosure.
4 Steps to Choosing the Exact Computer Enclosure
In what type of environment will the computer and/or electronics be located?

When starting an enclosure search, determine the National Electrical Manufacturers Association (NEMA) rating recommended for your environment. Some examples of NEMA ratings that will work in many harsh environments, include the following:
NEMA 12 enclosures protect against dust, dirt, oils, lubricants, grease, and light splashing fluids (non-corrosive). NEMA 12 is intended for indoor use.
NEMA 4 enclosures protect against falling dirt, dust, splashing water and hose directed water. NEMA 4 is intended for indoors or outdoors (offers protection against rain, snow, ice, sleet).
NEMA 4X enclosures protect against falling dirt, dust, splashing water, hose directed water and corrosive materials. NEMA 4X is intended for indoors or outdoors (offers protection against rain, snow, ice, sleet).
Is bacteria and/or washdown a concern?
Pharmaceutical and food/drink processing plants should be aware of the computer enclosures' ability to be thoroughly cleaned without harboring microbial contaminants. Stainless steel/sloped top computer enclosures will be the best option – in any environment – to shed water and reduce the possibility of bacterial growth. A heavy-duty gasket around the door frame, that is bacteria resistant, is also worth considering for additional protection.
What accessories best compliment the workstation?
During the selection process, a team leader should consider a wide range of optional accessories. Does the computer enclosure need to be mobile or stationary? Should the enclosure have lockable doors for security? How many shelves will be used for electronics? Is a VESA mount included for monitor installation? How will the wires/cables be organized? Will thermal management be a necessity in a hot/humid environment? Could a heater be installed in a freezer area? These questions (and many more) should be addressed during the selection process. Research the included features to ensure that the base computer enclosure model will fit any operator's needs. Sliding shelves, industrial-grade castors, bolt down legs, lockable doors, keyboard drawers, mouse pads, cable entry glands, power cords, USB connectors, and hinged printer access doors are just some of the accessories that can enhance the end user experience and the enclosure's overall utility.
What are the plans for the future?
Monitors, computers, keyboards, and printers are forever changing. Just when someone gets accustomed to a specific widescreen monitor or state-of-the-art computer system, the manufacturer introduces a newer version or a 'faster, better model.' When choosing a computer enclosure workstation, research features that will allow "growth" in the future. Viewing windows that can accept up to 24", 27" or even 32" monitors will ensure that there is plenty of room to upgrade from the 19" monitor currently in use. Printers may get larger or smaller, depending on the printed material, so ensure that an enclosure shelf can hold varying amounts of weight and a hinged printer door can be used with different sizes of labels or paper. Computers can also change drastically over the years, so an enclosure with extra room will make all of the difference!
A buyer should always perform the proper product evaluation when purchasing a computer enclosure. Do not base a decision solely on price. Less expensive often means less quality and utility. Research various products on the market to determine the solution that will offer the most value in the long term. Computer enclosures are an investment. Choosing the right enclosure – for the job – will decrease the chance of an expensive replacement! Selecting the proper computer enclosure up front will maximize the life cycle of any computer system and ultimately be cost effective.
HAVE QUESTIONS?  LET US KNOW HOW WE CAN BEST ASSIST YOU! CONTACT AN 'ITSENCLOSURES EXPERT' AT 1-800-423-9911 -or- SEND US AN EMAIL:  INFO@ITSENCLOSURES.COM
https://itsenclosures.com/wp-content/uploads/2019/09/nema-4-titan-computer-enclosure-pc-monitor-enclosure.jpg
563
869
Matt
https://itsenclosures.com/wp-content/uploads/2019/11/ITSENCLOSURES-CELEBRATING-35-YEARS-OF-EXCELLENCE-e1611954113367.png
Matt
2019-09-25 14:45:28
2020-04-02 11:18:00
Steps for Selecting a Computer Enclosure