Mt. Pleasant, PA (May 26, 2020) – For over 35 years, ITSENCLOSURES has been designing and constructing the toughest rack enclosures in the enclosure marketplace. IceStation by ITSENCLOSURES is happy to announce a new heavy-duty enclosure solution for rack mountable electronics (switches, routers, and network equipment): the NEMA 4 desktop IR282626-04 rack enclosure. The NEMA 4 enclosure will guard against dust, dirt, grease, hose directed water, corrosives, and weather conditions like rain, sleet, and snow.
Designed with 19" square punched rack channel (supports square cage-nuts for either #10-32 or M6 threaded mounting screws), the IR28-04 rack enclosure is fabricated out of 14-gauge cold rolled steel with the outside dimensions measuring 28" high by 26" wide by 26" deep. Internally, the desktop rack enclosure offers 12U of available rack space.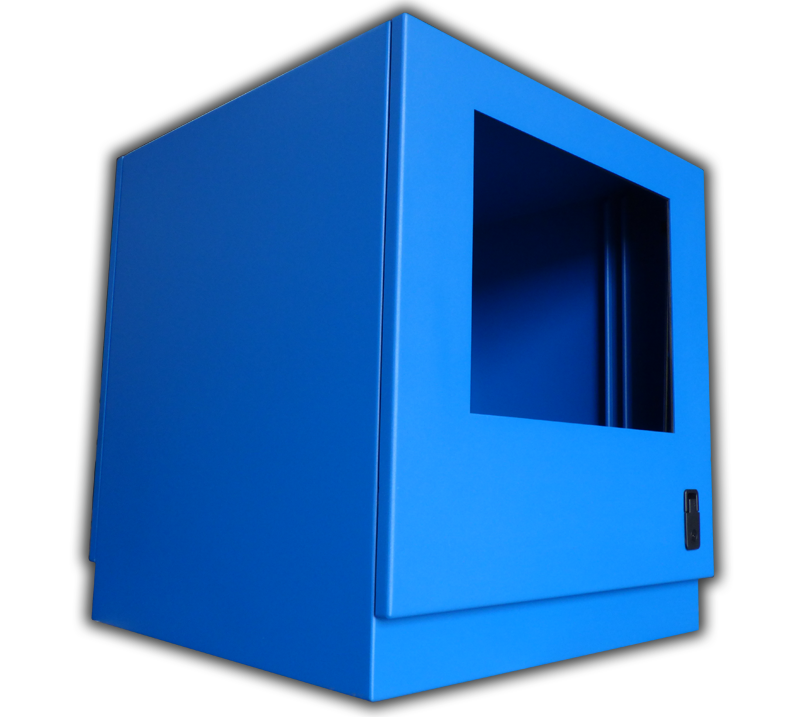 The IR28-04 front and rear doors feature two-point latching with locks and long-lasting dual durometer EPDM gasket. A tempered safety glass or polycarbonate window (17.2" Wide x 13.6" High with a 21.9" diagonal) can be installed on the 12-gauge steel front door. In addition, the doors can be easily removed by lifting the pins on the hinges.
"At ITSENCLOSURES, we strive to be the market leader for unique enclosure products and have been building durable enclosures since 1985. Our new, NEMA rated desktop rack enclosure will benefit manufacturing and industrial companies in need of protecting rack mountable equipment in rough, wet environments," said JT Spangler, CEO of ITSENCLOSURES. "Time and time again, the inspiration for new products can be traced back to the immediate needs of our loyal customers. It is exciting to see how a simple idea can turn into a robust product, which will be used in factories and harsh environments across the country."
The unit can be positioned on a desk, table, or under a workspace – the small footprint makes it perfect for limited space areas. Other mounting options include a vertically adjustable, bolt-down pedestal to create a proper height for users or an adjustable mobile pedestal to move the enclosure around a factory floor.
ITSENCLOSURES offers various beneficial rack enclosure accessories for its NEMA 4 enclosures. To easily route cables and wires, a watertight Roxtec cable entry gland can be installed on the rear or sides of the unit. Additional accessories include a 6-outlet surge protector, rack mountable shelving, USB connectors, and a solid front door. Thermal management options include a filtered fan system, vortex cooling unit, NEMA 4 heat exchanger, and various sizes of enclosure heaters.
"All of our IceStation products and accessories are heavily tested at our facility and are always assembled and ready to use upon delivery. Just plug and play," Mr. Spangler added.
IceStation rack enclosure products are coated with a polyester powder paint finish and the IR28-04 desktop rack enclosure is available in blue, gray, or any custom color found on the RAL color chart.
Proudly 'Made in the USA,' ITSENCLOSURES' products are designed and assembled at the ITSENCLOSURES warehouse in Mt. Pleasant, Pennsylvania – located 36 miles southeast of Pittsburgh.
For more information, visit the IR28-04 product page: Click Here
---
About ITSENCLOSURES
ITSENCLOSURES' products allow companies to use computers, printers, keyboards, or monitors in the harshest of environments. IceStation enclosures will protect a company's investment and maximize the lifetime of the electronics protected.
Four great reasons to choose ITSENCLOSURES: quality, delivery, service, and price.
For more information on ITSENCLOSURES and the large selection of innovative enclosures, visit www.ITSENCLOSURES.com, email info@itsenclosures.com, or call 1-800-423-9911 to talk to an ITSENCLOSURES sales representative.
https://itsenclosures.com/wp-content/uploads/2020/05/IR28-04-Desktop-Rack-Enclosure-IceStation-ITSENCLOSURES-e1642798050795.jpg
420
750
Matt
https://itsenclosures.com/wp-content/uploads/2019/11/ITSENCLOSURES-CELEBRATING-35-YEARS-OF-EXCELLENCE-e1611954113367.png
Matt
2020-05-26 10:06:24
2020-05-26 11:45:12
ITSENCLOSURES Introduces NEMA 4 Desktop Rack Enclosure