Mt. Pleasant, PA (February 28, 2017) – ITSENCLOSURES, a digital signage hardware expert, installed an all-weather, LCD enclosure at the front entrance of The Frank Kapr Funeral Home. The digital signage displays brief obituaries with visiting hours and also announcements/events.
Frank Kapr Funeral Home, located on West Pittsburgh Street in Scottdale, Pennsylvania, has been in operation for over 6 decades. Wanting to take advantage of the flexibility of digital signage to instantly change and revise content, the funeral home installed a consumer grade, residential, HDTV to present obituaries and announcements. The indoor monitor was mounted outdoors on the front porch railing, but was not a 'high bright,' commercial monitor. For this reason, it was nearly impossible to see during the day.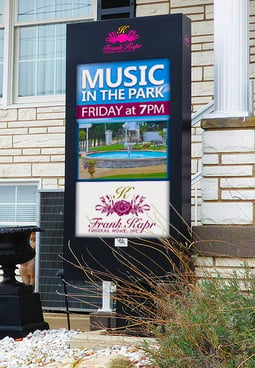 Frank Kapr desired to use the digital signage around the clock, and the residential television posed a problem. After struggling to use the current system, the funeral home turned to ITSENCLOSURES for direction on a more robust solution. For over a decade, ITSENCLOSURES has designed and installed outdoor, all-weather lcd enclosures across the United States, Canada, and the Caribbean. Several factors were considered, including the overall display visibility and harsh, Western Pennsylvania weather conditions.
After meeting with ITSENCLOSURES to discuss digital signage options, Frank Kapr chose an enclosure – in portrait orientation – that included a 46" high bright LCD (1,500 nits), and a specific heating and cooling system to allow operation 24/7 in temperatures of -40° to 120°F. To quickly modify content on an hourly or daily basis, a media player is hard-wired to a computer in the funeral home's main office.
Frank Kapr, Owner of The Frank Kapr Funeral Home, was pleased with his decision to utilize digital signage at his funeral home, "We wanted state-of-the-art signage for our funeral home… something that could be seen from a distance. Our first step was to contact Shannon Roberts, who is the Production Manager at ITSENCLOSURES. He took the time to explain everything clearly to us and helped us make the best decision for our needs."
After reviewing various locations on the funeral home's grounds, the enclosure was installed on a cement footer in the flower garden at front of the building and can be seen by those walking or driving past the building. It is surrounded by flowers and greenery, making it an eye-catching addition to the funeral home. Frank Kapr also chose to have the funeral home's logo silk screened in 3 locations on the enclosure for personal customization and brand awareness.
JT Spangler, Owner and President of ITSENCLOSURES, was proud that his company's digital signage would be used to honor those that had passed away, "Digital signage is often installed for advertising and promotion, so I was proud to see our product employed in a unique way at the funeral home. The Frank Kapr Funeral Home is a fixture in the town of Scottdale, Pennsylvania, and they give back by using the LCD enclosure to display area events. This is just one more example of how digital signage can be a very versatile product."
The Frank Kapr Funeral Home has a park on the property, called the Family Gardens, with a soothing waterfall, fountain, and statue. The all-weather LCD enclosure announces musical entertainment in the park. Singers, instrumentalists, and bands are provided free of charge to the public.
Mr. Kapr continued, "We are ecstatic about all that our attractive sign is capable of doing and we are continually finding new things to try with the sign. It is the right size for the exterior of the funeral home and the messages can be read from a distance. We are happy with our investment and every dollar was well spent. Mr. Roberts and ITSENCLOSURES are a wonderful digital partner."
For more information on ITSENCLOSURES' large array of products, visit www.ITSENCLOSURES.com, send an email to info@itsenclosures.com, or call 1-800-423-9911 to speak with Jennifer Bissell, Director of Marketing.
For more information on other enclosure products by ITSENCLOSURES: Click Here
https://itsenclosures.com/wp-content/uploads/2017/02/ITSENCLOSURES-Deploys-Digital-Signage-at-Pennsylvania-Funeral-Home.jpg
720
1280
Sydney Patton
https://itsenclosures.com/wp-content/uploads/2019/11/ITSENCLOSURES-CELEBRATING-35-YEARS-OF-EXCELLENCE-e1611954113367.png
Sydney Patton
2017-02-28 15:30:38
2020-03-26 13:37:25
ITSENCLOSURES Deploys Digital Signage at Funeral Home