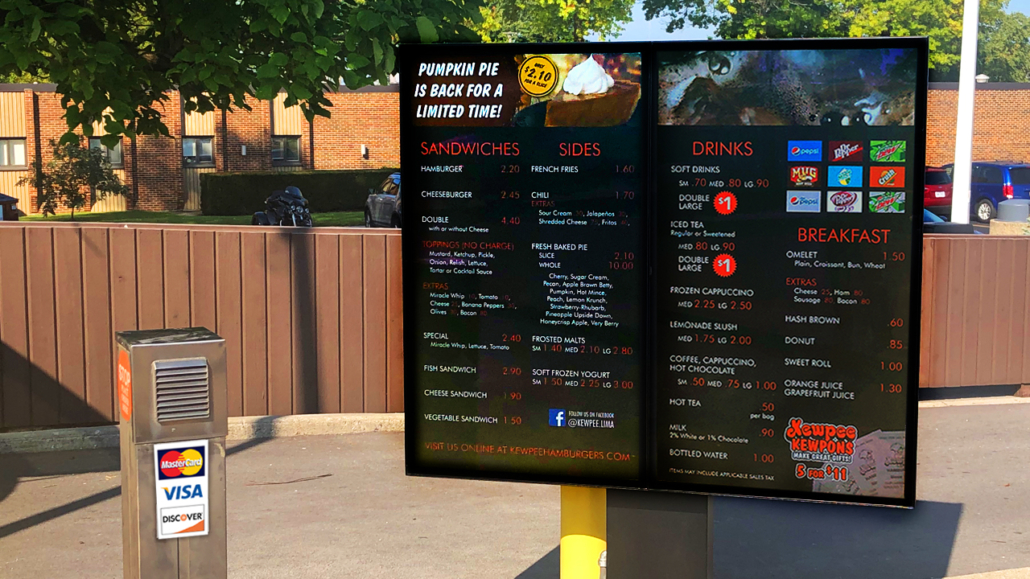 COMPANY SYNOPSIS:
For almost 100 years, Kewpee Hamburger has been serving fresh ground hamburgers with high quality fixings, fresh baked pie, frosted malts, and much more to many happy customers across the mid-west. The first Kewpee restaurant opened in 1923 in Flint, Michigan. Burger Beast notes that "Kewpee Hamburgers is the 2nd oldest Burger Chain in the United States after White Castle." According to the Cleveland.com website, "during the 1940s, there were more than 400 Kewpee locations nationwide." Today, Kewpee Hamburgers has locations in Lima, Ohio, including the downtown, westside, and eastside locations, and two out of state locations (Lansing, Michigan & Racine, Wisconsin). In addition, Kewpee has been recognized for having one of the first drive-thrus in the country. It is rumored, in the industry, that Wendy's copied the square burgers made famous at Kewpee!
HOW DID KEWPEE BURGERS FIND ITSENCLOSURES:
Scott Shutt, Kewpee Hamburgers owner/operator, found the ITSENCLOSURES website while performing an online Google search for drive thru digital signage. He was interested in a menu board for the drive-thrus at his three Lima locations. Once he found the solution that would work for his needs, he called ITSENCLOSURES and talked to a salesperson about his options.
PROJECT:
Mr. Shutt was in pursuit of an all-weather, outdoor digital menu board to be installed at Kewpee Hamburgers in Lima, Ohio. He researched various digital signs and monitor solutions available on the market. His main goal was to determine what competitors were utilizing at fast food/quick service restaurants in the United States. The most important function of the digital signage would be displaying the restaurant's menu for Kewpee's breakfast, lunch, dinner, and dessert selections. Mr. Shutt wanted the ability to change out advertising on the screens, as well as update pricing and promote best-selling food items and seasonal items, like holiday pies.
CHALLENGES:
The current static signage would need to be removed, new heavy-duty bolts installed in existing concrete, and updated wiring would have to be fed into the building under the ground. Also, the digital signage would be deployed in a tight area in the existing drive-thru lane.  Mr. Shutt was concerned about drivers being able to maneuver around the drive-thru without hitting the sign. He also wanted to make sure that the sign was bright enough in direct sunlight. In addition, two of his locations would need special mounting, as the signs were in close proximity to brick walls.
SOLUTION:
Kewpee Hamburgers reviewed a few different solutions over the course of a few months and, after visiting ITSENCLOSURES in Mt. Pleasant, Pennsylvania, chose the VS-6 2×1 digital menu board with two high bright Samsung outdoor monitors. Kewpee and ITSENCLOSURES mounted the all-weather menu board in the drive-thru of the downtown Lima Kewpee Hamburgers. The innovative solution includes two 55-inch, 2,500 nit high-bright LCD monitors (in portrait orientation) encased in a mount/pole configuration with housing for media players and other necessary electronics. The signage encasement is marine grade aluminum with a polyester powder paint finish and stainless steel fasteners. For the locations with limited space, ITSENCLOSURES designed a custom 'swinging arm' mount for the menu boards installed near brick walls. This built-to-last structure would make it easier to access the monitors, while keeping air circulation intact.
SUMMARY OF PROJECT:
Scott Shutt, Kewpee Hamburgers owner/operator, summed up the digital sign project, "Like much technology today, there are considerations to be made with hardware and software. Many vendors have a background in software and it becomes apparent that they are more interested in selling software licenses than how the menu board will perform. The engineering of the ITS VS-6 2×1 is superb and the quality of the fabrication is unsurpassed. The ITSENCLOSURES' VS-6 2×1 gives us the flexibility to use a media platform of our choosing knowing that the structure will provide us years of outstanding services."
ADDITIONAL PRODUCT INFORMATION

HAVE QUESTIONS?
Let us know how we can best assist you! Contact an 'ITSENCLOSURES expert' at 1-800-423-9911 -OR- send us an email: info@itsenclosures.com
https://itsenclosures.com/wp-content/uploads/2019/08/digital-signage-kewpee-burgers-viewstation-outdoor-monitors-itsenclosures.jpg.jpg
720
1280
Matt
https://itsenclosures.com/wp-content/uploads/2019/11/ITSENCLOSURES-CELEBRATING-35-YEARS-OF-EXCELLENCE-e1611954113367.png
Matt
2020-01-24 10:07:21
2020-03-31 08:46:48
Kewpee Hamburgers