COMPANY SYNOPSIS:
Fuyao Glass Industry Group Co. is a leading international manufacturer of automotive and industrial glass located in the People's Republic of China. Fuyao Glass America is an OEM glass supplier for the world's top auto manufacturers, including GM, BMW, Isuzu, Chevrolet, Jeep, Chrysler, Honda, Ford, Toyota, Audi, Volkswagen, and Mercedes… just to name a few. Fuyao's locations in the United States include: Lake Orion, MI, Greenville, SC, Moraine, OH, and Mt. Zion, IL.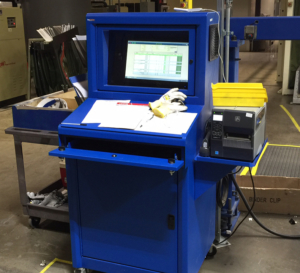 HOW DID FUYAO FIND ITSENCLOSURES:
Fuyao initially contacted ITSENCLOSURES after an internet search for computer enclosures. ITSENCLOSURES was re-engaged on the project through the referral of an integrator for Fuyao.
PROJECT:
In 2015, Fuyao acquired PPG's automotive glass manufacturing facilities and underwent major renovations before production could begin. Fuyao sought a heavy-duty industrial computer enclosure to house vital electronics on the plant floor. The requirements for the enclosure solution included a NEMA 12 rating and enough space to house a wide screen monitor, keyboard, mouse, computer and barcode printer. Fuyao's major concerns included finding a quality product, at a competitive price, that would withstand a manufacturing environment. Due to the rapid expansion, the glass manufacturer required the enclosures very quickly to meet an aggressive timeline and 'go live' date.
CHALLENGES:
Based on a competitor's cabinet, Fuyao set a very low budget for deploying the computer enclosures. Fuyao, not willing to accept an inferior product, contacted ITSENCLOSURES for 100 piece pricing on a comparable enclosure product. Unfortunately, the competitor's products were not of the same quality of ITSENCLOSURES' products and failed in Fuyao's harsh, dirty environment. In order to show the product's differences, ITSENCLOSURES offered to send Fuyao an evaluation unit to review internally before making a purchasing decision. In the end, the companies were able to negotiate a price that kept Fuyao within their desired budget.
SOLUTION:
ITSENCLOSURES recommended the IceStation TITAN freestanding computer enclosure. The TITAN enclosure accommodates up to a 24-inch wide screen monitor, has an integrated keyboard drawer with a sloped work surface, and space underneath the keyboard drawer for a PC and power supply. In addition to the standard offerings, Fuyao desired an external side mounted shelf to support a thermal barcode printer. A sealed cable entry gland, installed next to the shelf, easily routes electrical cables and wires without jeopardizing the NEMA 12 enclosure rating. To keep the electronics running at optimum temperatures, a 200 CFM filtered fan system, with a normally open thermostat, was installed on the enclosure.
INSTALLATION DATE:
Fuyao issued a purchase order in September 2015. Shipments of the computer enclosures began immediately and spanned over 3 months. ITSENCLOSURES completed the deliveries in December 2015, just before the holidays.
SUMMARY OF PROJECT:
In all, Fuyao deployed 130 IceStation TITAN enclosures between their Moraine, OH and Lake Orion, MI facilities. ITSENCLOSURES easily scaled production to meet Fuyao's needs and delivered the enclosures ahead of their schedule. The automotive glass supplier is very pleased with the performance of the IceStation TITANS and hopes to order more cabinets in the future.
PRODUCT PAGE OF THE SOLUTION: Click Here
YOUTUBE VIDEO: Click Here
HAVE QUESTIONS?
Let us know how we can best assist you! Contact an 'ITSENCLOSURES expert' at 1-800-423-9911 -OR- send us an email: info@itsenclosures.com
https://itsenclosures.com/wp-content/uploads/2019/10/case-study-fuyao-automotive-glass-itsenclosures-icestation-titan-pc-enclosure-1-e1580500243458.jpg
563
1000
Matt
https://itsenclosures.com/wp-content/uploads/2019/11/ITSENCLOSURES-CELEBRATING-35-YEARS-OF-EXCELLENCE-e1611954113367.png
Matt
2019-10-07 16:20:31
2020-03-19 10:44:19
Fuyao Glass America