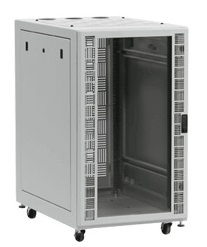 A rack enclosure is a must for companies/IT departments to store servers and network equipment. The overall organization of the equipment should be a top concern. For the best organization, electronics should be housed inside of a vented rack enclosure. This provides functionality, arrangement, passive cooling, and, above all, security. In the beginning of the process, there are basic questions, which should be posed, to find the perfect vented enclosure solution for the needs of a customer or end-user.
Questions to Determine the Best Vented Rack Enclosure Solution;
How much equipment will be stored?
Before installing electronics, it is important to evaluate how much equipment will be stored inside of the enclosure. This will help determine the overall dimensions of the vented enclosure or how many U of rack mount space (the height of the enclosure; a U equals 1.75 inches) is needed. To store a large amount of equipment, multiple enclosures can be ganged/bolted together to house everything.
What type of cable management is necessary?
With electronic equipment, many cables, wires, and cords will reside inside of the vented enclosure either vertically or horizontally. Split panels, metal or plastic conduit, sleeves, or small openings should be available for cables to enter/exit the enclosure. The proper cable management will aid in organizing the cables and ensure that everything remains plugged in. Cable management also reduces the risk of cables being pinched or cut when closing a door. 
Does the equipment need a lock?
Some vented enclosures (and the electronics inside) may be accessed by anyone at the company, while other enclosures may need to be secured under lock and key. If the enclosure needs to be secured and kept private, choose an enclosure with key locking latches on the doors and side panels. Lockable doors provide easy access, while maintaining equipment protection. 
What type of add-ons are required?
Accessories should be considered before purchasing a vented enclosure for a server or network, including air circulating fans (single, double, quadruple), rack mountable surge protectors, power cords, drawers, shelves (stationary or sliding), filler panels (should fit the standard 19" EIA compliant mounting), levelers, bolt down legs, and industrial grade castors. These accessories will create an enclosure environment which keeps everything orderly and easy to navigate.
Carefully consider each question above, or your vented rack enclosure choice may result in a less than ideal solution. Before finalizing the purchase, make a list of everything that is needed and be sure to check it a few times. If the enclosure is heavily researched, it will keep electronics safe and secure for many years in the future. This will save money and prevent unnecessary downtime. 
HAVE QUESTIONS?  LET US KNOW HOW WE CAN BEST ASSIST YOU! CONTACT AN 'ITSENCLOSURES EXPERT' AT 1-800-423-9911 -or- SEND US AN EMAIL:  INFO@ITSENCLOSURES.COM
https://itsenclosures.com/wp-content/uploads/2019/07/NS40-main-e1565713905554.jpg
247
207
Matt
https://itsenclosures.com/wp-content/uploads/2019/11/ITSENCLOSURES-CELEBRATING-35-YEARS-OF-EXCELLENCE-e1611954113367.png
Matt
2022-09-28 14:38:32
2022-12-02 13:24:53
Questions for Selecting a Vented Rack Enclosure