Mt. Pleasant, PA (May 31, 2017) – For over three decades, ITSENCLOSURES (Integration Technology Systems) has been engineering and manufacturing digital signage enclosures for customers. ITSENCLOSURES is excited to introduce the latest revolution in touchscreen kiosk technology, the 'InfoStation' Interactive Touchscreen Kiosk. The heavy-duty kiosk solution is meant for indoor use and features a free-standing base.
From wayfinding, to directories, to up-to-the-minute social media, to functional web pages, the InfoStation interactive digital signage is a versatile tool to bring information to consumers.
The InfoStation touchscreen kiosk package includes an ADA compliant kiosk with a heavy-duty base, a Windows based media player with wireless web for real-time data, a 42-inch ELO projected capacitive touchscreen, interactive digital signage software provided by ConnectedSign – a digital signage content provider, and a one year annual maintenance and software support system.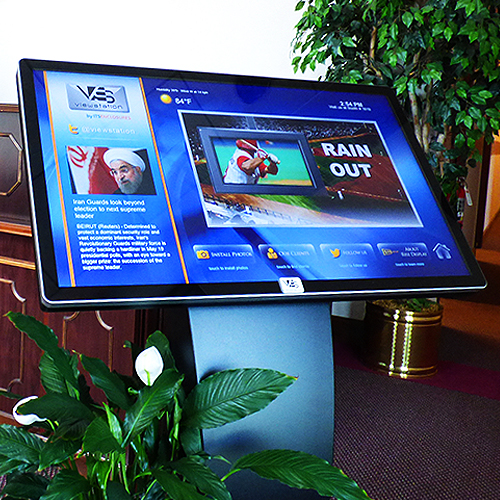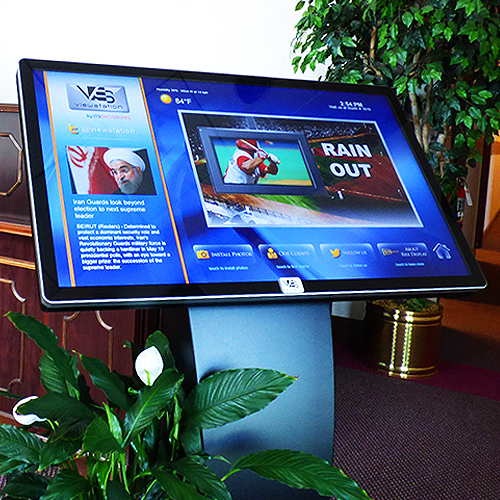 JT Spangler, President of ITSENCLOSURES, explains the importance of kiosks in the marketplace, "The InfoStation includes a freestanding kiosk with an interactive touchscreen to enhance a company's overall marketing and data portfolio. It is slick. With our digital kiosk, a company can update content easily and quickly, and keep information fresh and interesting to users. Animations, videos, imagery, and colorful graphics will make your company stand out from the crowd. Deploying the InfoStation kiosk in a lobby or meeting room will quickly illustrate that the company is at the cutting edge of technology."
The InfoStation is sturdy and is constructed of welded steel with a black powder coat finish. The rear panel can be effortlessly removed to access the media player, which resides on an internal shelf in the kiosk pedestal base. Cable exit holes are included in the bottom rear for easy cable management. The base and pedestal are coupled together with a 6" by 6" mounting pattern.
This modern, digital marketing display is easily applied to a multitude of applications including museums, restaurants, gas stations, casinos, convention centers, airports, hospitals, shopping malls, train stations, classrooms, libraries, theaters, conference rooms, schools, universities, hotels and resorts.
Mr. Spangler concluded, "We are very proud of this digital signage solution. The new InfoStation kiosk can be used in an endless array of industries and companies. I look forward to seeing this product deployed all over the country."
Additional customization is available, including custom colors from the RAL color chart and logo branding for a small charge.

To learn more about ITSENCLOSURES, please contact: Jennifer Bissell, Director of Sales & Marketing, 1-800-423-9911 –or– info@itsenclosures.com
Visit the InfoStation product page: Click Here
https://itsenclosures.com/wp-content/uploads/2017/05/ITSENCLOSURES-Introduces-New-Digital-Signage-Kiosk-Solution-InfoStation.jpg
720
1280
bzimmerman
https://itsenclosures.com/wp-content/uploads/2019/11/ITSENCLOSURES-CELEBRATING-35-YEARS-OF-EXCELLENCE-e1611954113367.png
bzimmerman
2017-05-31 15:18:01
2020-04-02 12:43:10
ITSENCLOSURES Introduces InfoStation Kiosk