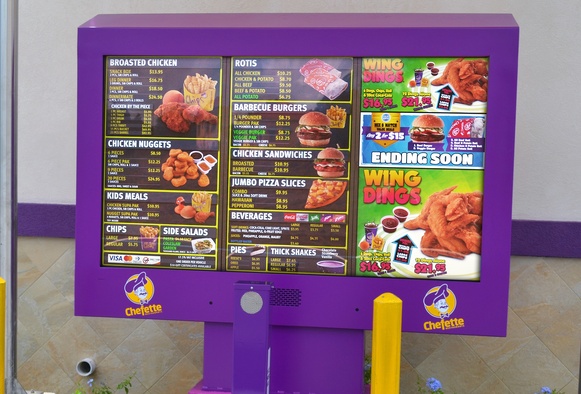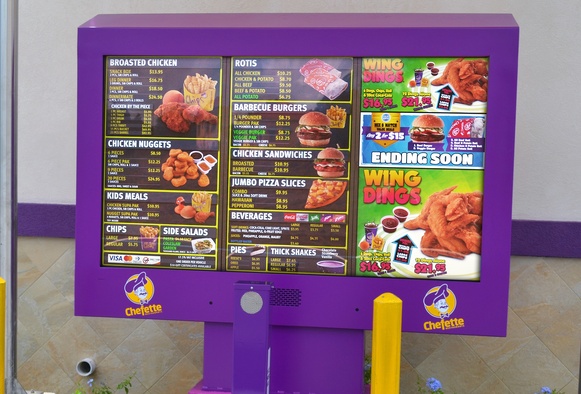 Mt. Pleasant, PA (September 29, 2017) – As ITSENCLOSURES continues to fabricate and deploy digital signage throughout the United States and abroad, a returning customer, Chefette Restaurants, recently added more outdoor digital signage menu to its chain of quick service restaurants.
Originally founded in 1972, Chefette Restaurants, the largest quick service restaurant in the Caribbean island nation of Barbados, operates 15 locations across the island of Barbados and employs over 850 people. Chefette deployed its first round of digital signage in the first quarter of 2013 at 10 drive-thru locations. The deployment included indoor and outdoor digital signage in portrait orientation and consisted of a mix of triple screen outdoor menu boards and single display pre-sale digital boards, both with 46-inch high-bright monitors. Because of the heat (average temperature is 80° F) and humidity that exists on the island, the outdoor LCD enclosures required air-conditioners installed on the rear of each unit.
The grand opening of Chefette's brand-new location in Lancaster was September 15th, 2017. The company's website noted "Chefette's newest branch is located in Lancaster, St. James, just off Highway 2A. This beautiful facility expands upon the modern designs seen at our Warrens and Welches branches and features a drive-thru, Double MEGA 3-Story Playground and ice cream parlor." According to the news article, 'Barbados needs Chefette now more than ever,' the new location "sits on over 8,000 square feet of land, can seat about 170 people and offers parking space for about 40 vehicles."
Chefette's Lancaster stor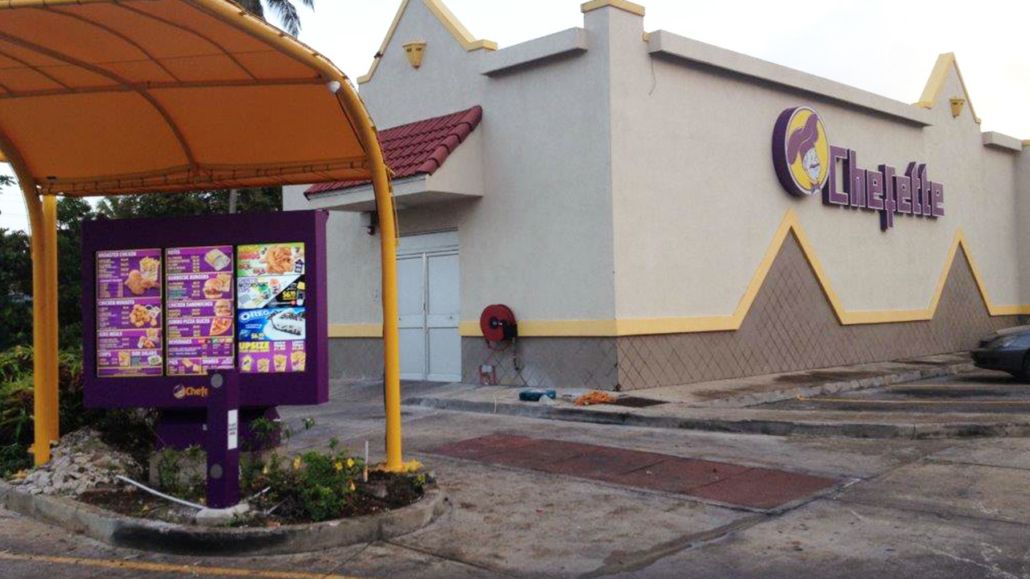 e deployed a single and triple screen digital signage menu board paired with 47-inch high bright monitors. Utilizing the latest technology, ITSENCLOSURES' fan cooled digital menu boards boast a 66% energy consumption reduction, compared to the compressor based enclosures originally installed in 2013.  Each enclosure is branded with the company's logo and powder coated in the company's signature color purple. Since the original deployment in 2013, ITSENCLOSURES' new generation of outdoor digital menu boards are thinner, sleeker, and more energy efficient. To reduce  frequent enclosure maintenance, the menu boards employ a hydrophobic air filter to keep out dust and dirt, and only need to be replaced every 3-5 years. Chefette also installed commercial grade 48-inch monitors indoors to serve as menu boards and promotional tools.
"Chefette has been a loyal digital signage customer for years and we are proud to have our outdoor digital menu boards at the chain's drive-thrus, including the new Chefette store in Lancaster," said J.T. Spangler, President and Owner of ITSENCLOSURES. "The new location looks inviting and modern. Chefette does an excellent job with the architectural design and feel of each location. ITSENCLOSURES is proud to be the exclusive provider of digital menu boards to Chefette. We look forward to working with them on future projects!"
ITSENCLOSURES designs and builds the most heavy-duty enclosures on the market and ships every product completely assembled and ready to use upon delivery.
For more information on ITSENCLOSURES and their wide array of innovative products, please email ITSENCLOSURES (info@itsenclosures.com) or call 1-800-423-9911 to speak to a sales specialist.

https://itsenclosures.com/wp-content/uploads/2017/09/chefette-barados-quick-service-restaurant-3-lcd-digital-signage-itsenclosures-viewstation.jpg
394
581
Sydney Patton
https://itsenclosures.com/wp-content/uploads/2019/11/ITSENCLOSURES-CELEBRATING-35-YEARS-OF-EXCELLENCE-e1611954113367.png
Sydney Patton
2017-09-29 15:10:33
2020-03-26 14:38:49
Chefette, Barbados Restaurant, Installs Digital Signage Menus