When storing electronics in a computer, monitor, printer, or rack enclosure, proper cooling is necessary to increase the overall life of the electronics. It comes as no surprise that heat can damage electronics. As a rule of thumb, the life expectancy of electronics is cut in half for every 18°F in which they operate above room temperature. System integrators should be aware that operating electronics in high or elevated temperatures can void manufacturer warranties. Thus, the correct thermal management is critical for a computer enclosure deployment in a manufacturing setting.

Many factors influence the temperature – in which electronics are exposed – on the inside of a computer enclosure. In the blog, 'Could High Humidity be Hurting Your Electronics?,' the author notes that "electronics are more delicate than you may think, and are susceptible to damage in high-humidity environments. It is important to keep relative humidity between 40-60% to keep electronics running efficiently." Therefore, it is imperative to consider not only the electronics' heat output, but also the environmental factors that may cause high ambient air temperatures.
The following are some examples of potential sources of heat:
Power Supplies
Controllers, Drives, or Servers
Computers and Monitors
Rack Electronics
Printers (Barcode, Label, or Desktop)
Solar Gain Heat
Furnaces or Ovens
Foundry Equipment
Electronics, which are more robust than average off-the-shelf products, will most likely have a higher heat output. Because we live in a world where faster is better and processing capacity is extremely important, more powerful systems are being designed at a rapid pace. Powerful electronics will generate more heat and, as a result, will require some form of cooling, like a filtered fan system, heat exchanger, vortex cooling unit, or air conditioner.
What are Common Consequences of Damaging Heat?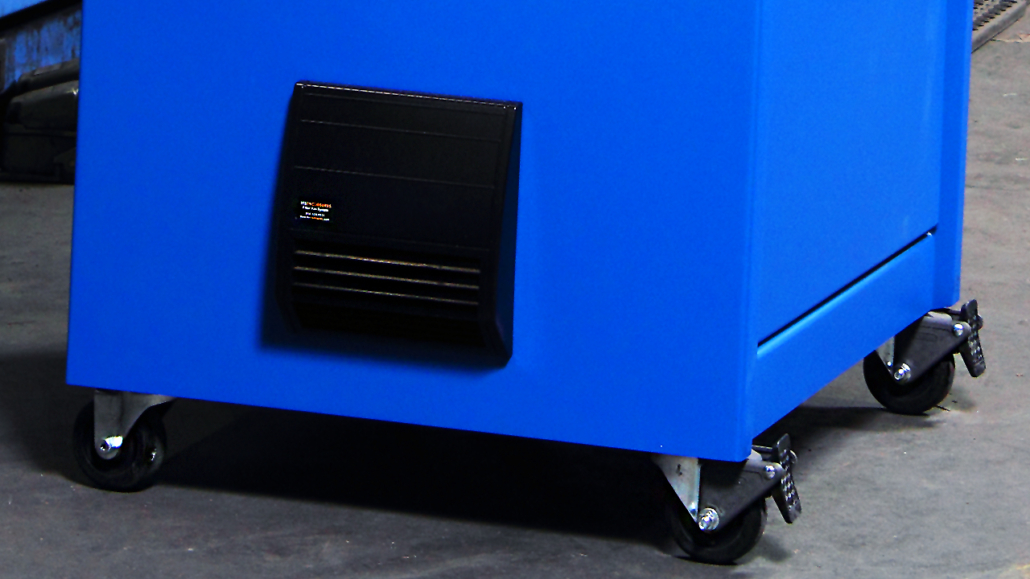 Heat building up – on the inside of an industrial enclosure – can adversely affect controls and sensitive electronics.
Below are a few examples of the adverse reactions of too much heat.
De-Rated Drive Performance
Electronics Failure
Productivity Loss/Down time
High Component Replacement Costs
Late Shipments
Lost Revenue
Customer Dissatisfaction
When searching for the right enclosure solution, speak with an enclosure expert to configure the best cooling solution based on a user's specific application. When discussing the installation of electronics on the inside of an enclosure, thermal management should always be on the list of must-haves. High heat will damage electronics when stored inside of an enclosure.
Simply put, any type of thermal management will help a computer system run more smoothly.
Download the cooling requirement worksheet for the first step in creating the perfect environment for your electronics.
HAVE QUESTIONS?  LET US KNOW HOW WE CAN BEST ASSIST YOU! CONTACT AN 'ITSENCLOSURES EXPERT' AT 1-800-423-9911 -or- SEND US AN EMAIL:  INFO@ITSENCLOSURES.COM
https://itsenclosures.com/wp-content/uploads/2021/09/filtered-fan-system-icestation-itsenclosures-TITAN-computer-enclosure.jpg
720
1280
Matt
https://itsenclosures.com/wp-content/uploads/2019/11/ITSENCLOSURES-CELEBRATING-35-YEARS-OF-EXCELLENCE-e1611954113367.png
Matt
2021-09-22 11:28:50
2021-09-22 11:28:50
Keeping Electronics Cool Inside a Computer Enclosure