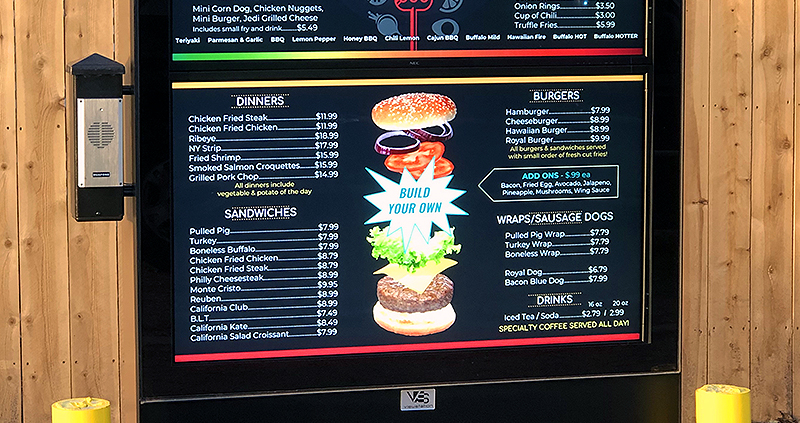 COMPANY SYNOPSIS:
According to the company's website, "TEU Services began operation in 2009 as an electronic message center (digital signs) designed to help business professionals grow their business by talking to more people without tying up their time and money." The company believes that "there will be more people passing by your store each day than visit your website or social media pages. [With outdoor digital signage, a company can] advertise specials or events and new products and change the message at any time from a computer."
HOW DID TEU SERVICES FIND ITSENCLOSURES:
According to a TEU representative, "We were working with a restaurant in Kerrville, Texas to provide outdoor digital signage, and they were requesting an outdoor digital menu board. At the time, we did not have a supplier for this product."
PROJECT: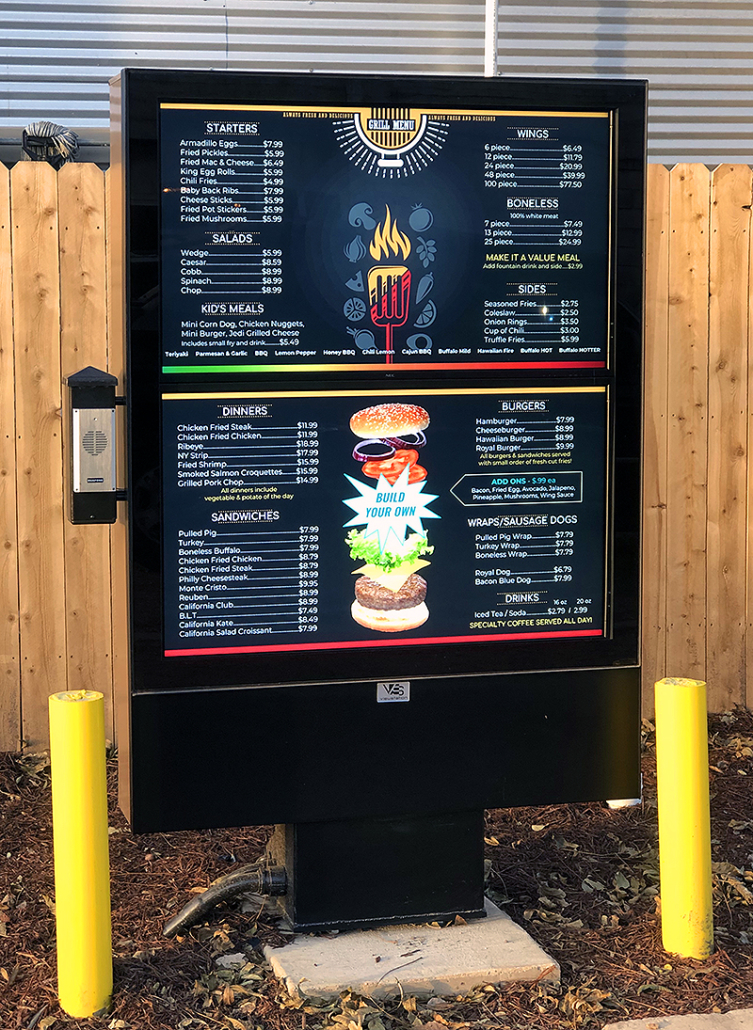 In the Summer of 2018, TEU Services was in search of an all-weather, outdoor digital signage menu board to be installed at a restaurant in Texas (north of San Antonio). According to TEU, "This was a new [digital signage display] install for a new local restaurant/coffee shop called Monroe's East End Grill. The building had been remodeled from a working cabinet shop that was in operation for over 30 years."
The main function of the outdoor digital signage would be to display the menu for Monroe's breakfast, lunch, dinner, and coffee selections. The restaurant desired signage which would permit them to easily make content changes, especially throughout the day as the menu changes for different dayparts.
CHALLENGES:
The proposed LCD enclosure solution needed to be operational 7 days a week from 6:00 am to 9:00 pm. The outdoor digital signage would be deployed outdoors in the direct sun, therefore, the end user was also concerned about any glare from the sun and the monitor getting overheated and failing in the hot Texas sun, specifically during busy lunch traffic.
SOLUTION:
TEU Services reviewed two different solutions, the 3-screen outdoor menu board and the 2-screen outdoor menu board. In the end, TEU chose the 2-screen menu board, enabling the restaurant to use similar content indoors and outdoors.
TEU mounted the all-weather, outdoor digital signage in the drive-thru of Monroe's East End Grill. The solution includes two 47-inch, 2000 nit high-bright LCD monitors (in landscape orientation), and a filtered fan system to circulate the internal air. A small speaker system, not part of the ViewStation solution, was mounted to the side of the enclosure for customers to order food and drinks.
SUMMARY OF PROJECT:
Walter McBroom, from TEU Services, summed up the project, "The new owners did a beautiful job on the remodeling [by] trying to keep the old feel of the building. They even left the antique post and electrical wiring in place. Other than that, it was an easy install. Even before the installation was completed, we had a request from another restaurant across town for a quote to replace their exterior signage. Very nice product and I am sure we will do business again."

HAVE QUESTIONS?
Let us know how we can best assist you!
Contact an 'ITSENCLOSURES expert' at 1-800-423-9911 -OR- send us an email: info@itsenclosures.com
https://itsenclosures.com/wp-content/uploads/2020/02/TEU-Services-Case-Study-ITSENCLOSURES-outdoor-digital-menu-boards.jpg
1095
800
Matt
https://itsenclosures.com/wp-content/uploads/2019/11/ITSENCLOSURES-CELEBRATING-35-YEARS-OF-EXCELLENCE-e1611954113367.png
Matt
2020-02-21 11:59:45
2020-03-31 08:46:17
TEU Services Outdoor Digital Signage