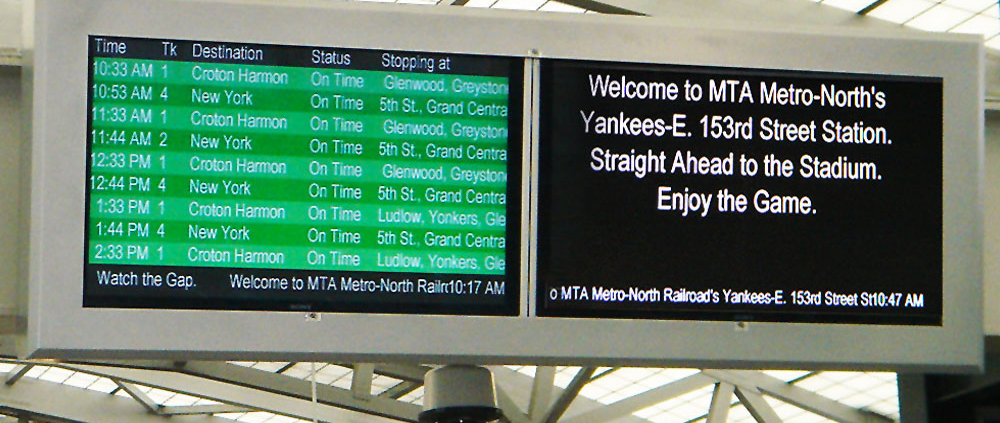 COMPANY SYNOPSIS:
According to the MTA website, "The Metropolitan Transportation Authority is North America's largest transportation network, serving a population of 15.3 million people in the 5,000-square-mile area fanning out from New York City… MTA subways, buses, and railroads provide 2.73 billion trips each year to New Yorkers." More specifically, the "Metro-North Railroad is the second largest commuter railroad in the nation. Its main lines — the Hudson, Harlem, and New Haven — run northward out of Grand Central Terminal, a Beaux-Arts Manhattan landmark, into suburban New York and Connecticut."
HOW DID METRO-NORTH FIND ITSENCLOSURES?
Robert Piucci, Assistant Director of Radio Systems for the Metro-North Railroad (MNR), stated that he found ITSENCLOSURES' LCD enclosure product line while searching for monitor enclosure companies on the web, "I researched the enclosures on the internet and found ITSENCLOSURES to have the enclosures and flexibility of mounts to meet our needs."
PROJECT:
In the Winter of 2009, Metro-North Railroad unanimously chose to update its outdated informational, static signage. The original signage was used for train and ferry passengers and out-of-town sightseers at the particularly busy Yankee Stadium station. The all-new digital signage would be utilized to display real-time rail commuter information and ever-changing transportation schedules.
CHALLENGES:
The size of the monitor was MNR's biggest concern, because schedules and pertinent data (including a ticker at the bottom of the screen) needed to be viewed from a distance. A small LCD screen/enclosure combo would be a disappointment in this enormous, busy environment. Another concern would be vandalism, from passengers and tourists, to the window and/or LCD monitor screens. Thermal management also posed a threat to the monitor and media player, since the stations are subject to outside ambient temperatures. Finally, a commercial grade monitor was necessary, as the screens would be running day and night. Monitors purchased at a big box store would not stand the test of time with this countless usage.
SOLUTION:
After reviewing the ITSENCLOSURES' website and considering the overall installation environment, the Metro-North Railroad (MNR), made the decision to install a combination of 42″ landscape and 52″ portrait-style fan-cooled ViewStation Universal LCD enclosures. The Universal enclosures feature anti-reflective glass, are vandal proof, and ideal for indoor and outdoor applications. In addition, Metro North installed a handful of ViewStation Array LCD enclosures that house two 52″ LCDs – side by side – within one environmental enclosure. Array enclosures are lockable, utilize integrated air movement, and offer aluminum construction with stainless steel hardware. The ViewStation Array enclosures are mounted on overhead trusses, so that the screens/schedules can be viewed from a distance in a crowded area.
SUMMARY OF PROJECT:
The project took approximately 5 months to complete and was deemed a tremendous success by MTA and New York commuters. The LCD screens run around the clock and continue to display imperative, up-to-date rail and ferry schedules.
"ITSENCLOSURES [has] friendly and knowledgeable sales help. We are very pleased with the enclosures, which have been in service for 9 year[s]. We [also installed] LCD monitors at our Poughkeepsie, NY station, which did not have displays previously." Robert Piucci – Assistant Director of Radio Systems for the Metro-North Railroad in New York
HAVE QUESTIONS?
Let us know how we can best assist you! Contact an 'ITSENCLOSURES expert' at 1-800-423-9911 -OR- send us an email: info@itsenclosures.com
https://itsenclosures.com/wp-content/uploads/2019/05/ViewStation-Array-Multiple-Screens-MetroNorth-Yankess-Enclosures.jpg
689
1000
Sydney Patton
https://itsenclosures.com/wp-content/uploads/2019/11/ITSENCLOSURES-CELEBRATING-35-YEARS-OF-EXCELLENCE-e1611954113367.png
Sydney Patton
2019-05-08 13:52:59
2020-03-19 10:53:37
Metro-North Railroad