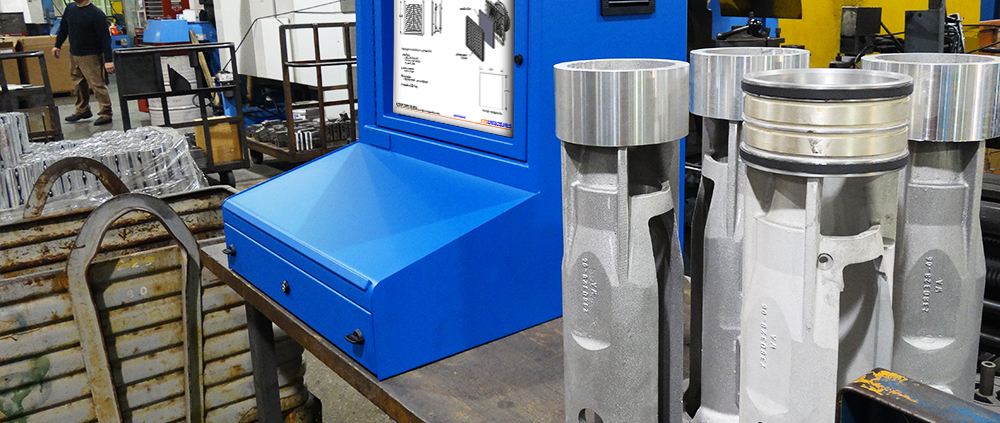 The term "custom" enclosure often gets a poor reputation for being more expensive than standard units and having excessive lead times. However, this is not always the case. When researching the best industrial computer enclosure for the job, it is critical to choose an enclosure provider which utilizes off-the-shelf items to customize a solution that meets the users' needs.
Finding the right enclosure for a computer enclosure project is more extensive than just simply picking out a steel or stainless steel 'box.' Enclosures are available in a variety of shapes, sizes, and materials with numerous options for accessories, mounting, connectivity, and climate control. End users and system integrators can simplify the process by choosing a customized solution that ships ready to be used upon delivery.
In order to meet the individual requirements of users, enclosure companies usually stock popular models and valuable accessories. Therefore, the company will be able to "build" an enclosure tailored to the end user's specific needs more efficiently, than if it was constructed 'from-scratch.'
Custom Factors to Consider:
Custom Colors
Sometimes the standard color offerings (gray, white, black, or even blue) will not suit the needs of a customer. Custom colors to fit a company's branding scheme, to match other equipment, or for safety reasons may be required for certain applications. It is necessary for an enclosure company to provide specialized color(s) choices (Pantone or equivalent RAL color) on a small or large scale.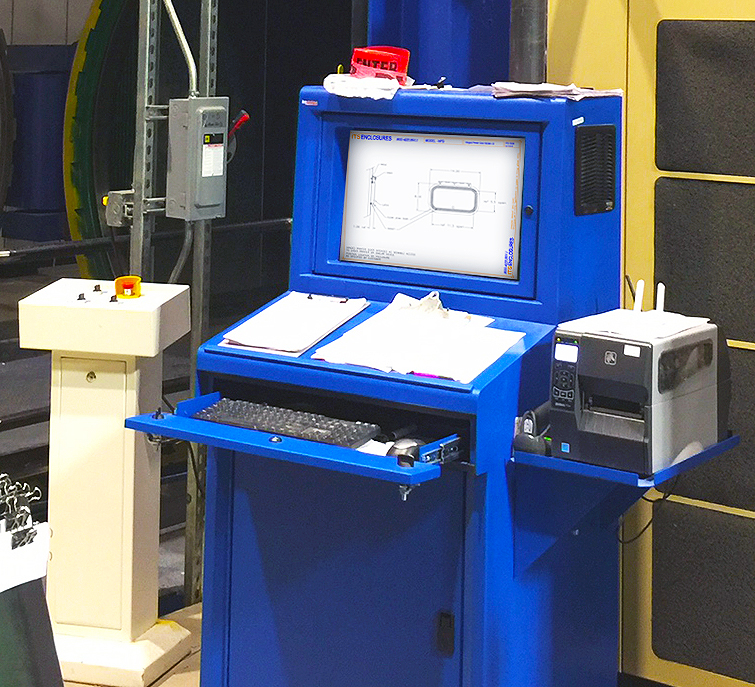 Custom Doors
Custom doors, ranging from dust-free printer access doors to rear extended doors to panel mountable doors for touchscreens, are crucial to the efficiency of the enclosure solution. Finding a means to access the electronics inside the pc enclosure is just as important as protecting the electronics from outside dirt, grease and other harmful contaminants. The enclosure can be rendered useless if there is not an easy way to access printer tickets or the ability to use a touchscreen.
Thermal Management
It goes without saying, but all industrial and manufacturing areas are different. It is beneficial to work with an enclosure specialist that has a thorough understanding of specifying the correct heating or cooling (or both) for a computer enclosure. The ability to tailor an off-the-shelf enclosure solution with a filtered fan system, air conditioner, vortex cooling unit, heat exchanger, or various sizes of heaters – specific to the environment the system will be installed – is crucial.
Ask the pc enclosure provider if they have a worksheet to fill out in order to find the best thermal management solution.
Additional Accessories
Although it may seem like minor details compared to the points already discussed, accessories like a foldable mousepad, sliding shelf brackets, mobile or bolt down pedestals (painted steel or stainless), cable entry glands, and power supplies can make a big difference. Most enclosure company websites will list out complimentary accessories below the product, so that an end user can select what will work best for the application. Enclosure specialists will work with customers to find the most appropriate accessories for the specified installation.
Never let the word "custom" affect a computer enclosure solution decision. Custom can simply mean that the end user can pick & choose how the industrial computer enclosure will look and function in a working environment. Homework is essential. As always, do not let price steer you in the wrong direction. In the end, durability and longevity should always be the most important factors when deciding on a brand new enclosure solution.

HAVE QUESTIONS?  LET US KNOW HOW WE CAN BEST ASSIST YOU! CONTACT AN 'ITSENCLOSURES EXPERT' AT 1-800-423-9911 -or- SEND US AN EMAIL:  INFO@ITSENCLOSURES.COM
https://itsenclosures.com/wp-content/uploads/2019/07/DESKTOPPCMONITORENCLOSUREIDFAMILYTITAN.jpg
750
1000
Matt
https://itsenclosures.com/wp-content/uploads/2019/11/ITSENCLOSURES-CELEBRATING-35-YEARS-OF-EXCELLENCE.png
Matt
2020-03-13 11:46:04
2020-03-24 09:56:20
Customizing Your Industrial Computer Enclosure