ITSENCLOSURES, 2022
Barcode label printers are utilized every day in factories, shipping centers, industrial buildings, and harsh production areas (both inside and outside). Stainless steel, printer box enclosures, with a NEMA 4X rating, are a perfect enclosure solution for the food, beverage, or pharmaceutical industries. These built-to-last printer enclosures will protect against harsh washdowns, dirt & dust, lint, fibers, and corrosive materials.
The IceStation PB20-4X printer enclosure comes standard with an adjustable, sliding shelf that holds up to 80-pounds, a stainless-steel hinged printer door (the hinge can be installed to open from the top, bottom, left, or right), waterproof gasket to provide a durable seal, quarter turn compression latches, a removable solid rear panel, and a lockable front door.
What can be added to create the perfect NEMA 4X printer enclosure?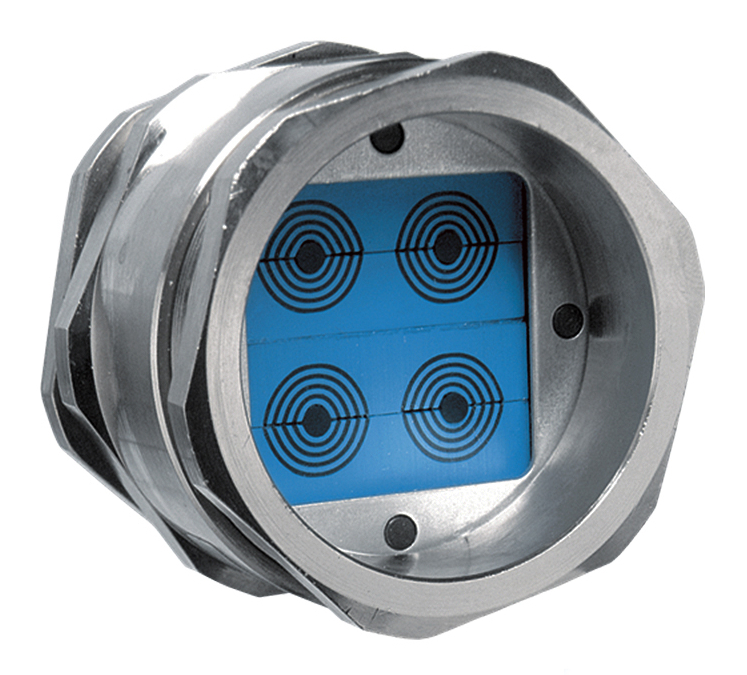 Roxtec Cable Entry Gland
In order to insert cables, cords, and wires into the stainless-steel printer enclosure, one should consider having a cable entry gland installed. Installation involves punching a 2.5" knock-out into the stainless steel body and then fastening the cable entry gland into place. The Roxtec Cable Entry Gland has 4 points of insertion which will provide a waterproof and dustproof 'compressed seal' around the cables. The rubber seal functions like an onion, whereas the end user can remove layers to create a diameter just large enough to run the necessary cables/cords.
Enclosure Mounting
If a desk, workspace, or countertop is not available for a stainless-steel printer enclosure, then a stainless-steel pedestal can be attached to the enclosure to bolt the printer configuration to the floor. A mobile pedestal – with lockable castors – can also be procured to move the printer enclosure around the factory or manufacturing floor. Both pedestals are adjustable for differing operator heights. A wall mount may also be utilized if floor space is limited.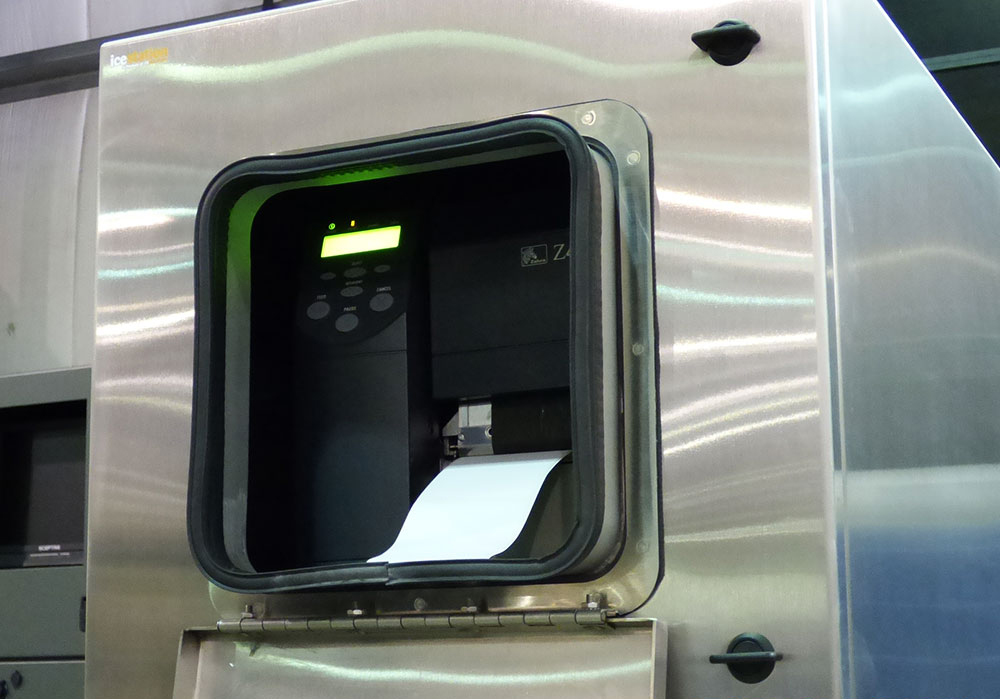 Hinged Printer Door Gas Spring
A gas spring closure can be added to the hinged printer door (HPD) on the front door to keep the HPD semi-closed. This helpful add-on is perfect for a factory floor, where workers may fail to remember to close the door after grabbing labels/printer materials. With the gas spring, the door will open at an 89° angle and will close on its own. While not completely keeping liquids out of the enclosure if the operator does not "lock" the latches on the door, the gas spring will still aid in cutting down on dust/dirt entering the printer enclosure.

Thermal Management
The PB20-4X can accommodate a few different types of thermal management, including a vortex cooling unit (which requires a compressed air hose and can provide approximately 2000 BTU of cooling), an outdoor rated (IP55) filtered fan system (power consumption of only 15 watts), and a NEMA 4X heat exchanger (heat is removed from the enclosure and contains two 4" fans at 100 CFM; mounts on the outside – flush to the enclosure). Heaters, available in various wattage sizes, are also offered and can be installed on horizontal uni-strut or simply placed in the enclosure.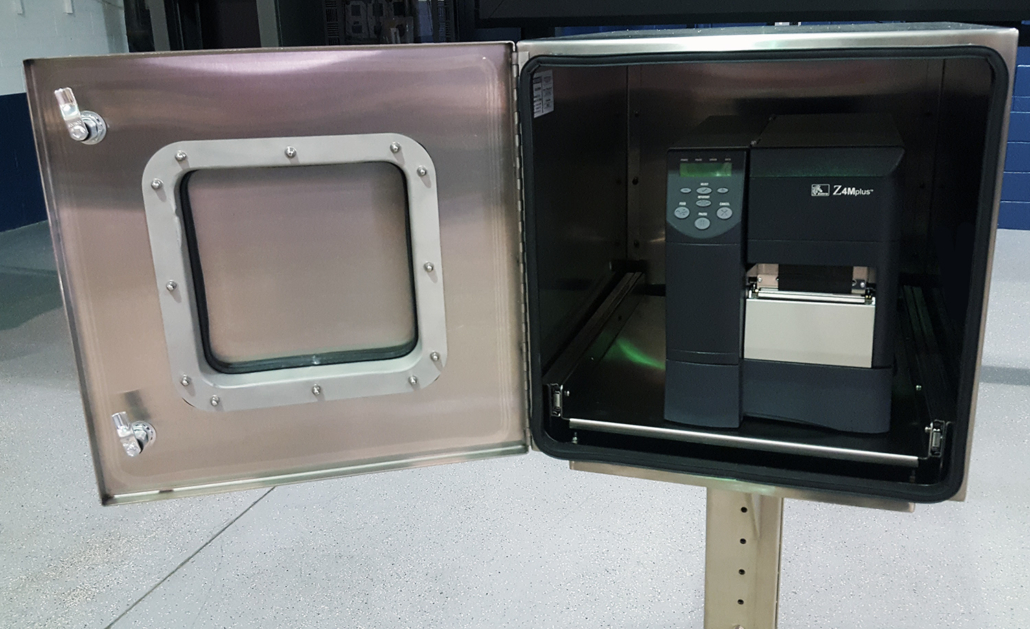 The PB20-4X will protect many different kinds and shapes of printers on the market without adding any accessories, but add-ons will make the printer enclosure more robust for any user. Quality printer enclosures are often less expensive than the printer in which they are protecting, which make it a smart investment for any company! Nobody can afford costly downtime. Plus, the printer enclosure is built to last, so it is likely that it will house various models of printers for many years to come.
HAVE QUESTIONS?  LET US KNOW HOW WE CAN BEST ASSIST YOU! CONTACT AN 'ITSENCLOSURES EXPERT' AT 1-800-423-9911 -or- SEND US AN EMAIL:  INFO@ITSENCLOSURES.COM
https://itsenclosures.com/wp-content/uploads/2022/01/PB202024-4X-Stainless-Steel-NEMA-4X-Printer-Enclosure-IceStation.jpg
916
1500
Matt
https://itsenclosures.com/wp-content/uploads/2019/11/ITSENCLOSURES-CELEBRATING-35-YEARS-OF-EXCELLENCE-e1611954113367.png
Matt
2022-01-03 16:49:19
2022-01-03 16:49:19
Creating the Perfect NEMA 4X PB20 Printer Enclosure