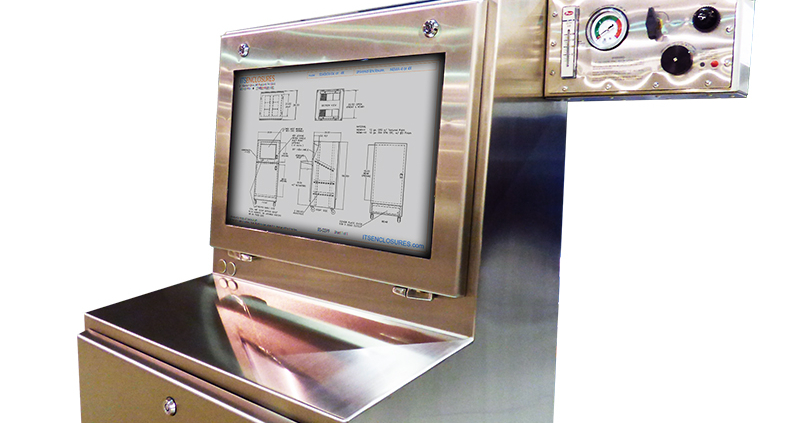 Prior to installation, system designers – working in corrosive or hazardous environments – should properly research how to safely deploy electronics. Considerations for the manufacturing area's classification (Class I, II & III) and division (Division I, II) for components (LCDs, touch screens, HMI, computers, and various other hardware) is crucial. A system designer may be able to procure controllers/electronic equipment, rated for a hazardous area, and install right out of the box. However, these systems are generally quite expensive to purchase, repair, or replace in the event of a failure.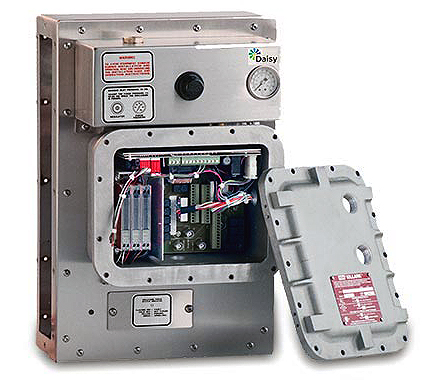 Alternative options for installing non-hazardous area electronics include using a computer enclosure with a purge control. According to the Daisy Data (purge system provider) website, "Purge controls are used in hazardous work areas to quickly force out hazardous or combustible compounds from hazardous computers, creating a positive pressure inside the purged enclosure."
Purged computer enclosures offer a safe, temperature-regulated, and pressurized environment for vital electronics. The purge system is often regulated by a low-maintenance vortex cooling unit, which utilizes clean air and creates an "office-like" environment on the inside of the enclosure.
What does a purged enclosure require?
Considerations for Purged Computer Enclosures
Enclosure Construction: Purged computer enclosures require a certain level of protection that can be afforded in either a NEMA 4X or NEMA 4 cabinet. Stainless steel enclosure material (usually 12-14 gauge), which can resist corrosives, may be required. For less extreme environments, a painted/powder coated steel NEMA 4 enclosure design may be satisfactory. Modifications, such as custom purge latches or heavy-duty gasket to ensure a tight seal, may be required by the enclosure manufacturer.
Input Devices: Many providers of purge systems will offer devices such as keyboards and pointing devices (hula point pointing device may be integrated into the keyboard or as a standalone option) that are available with intrinsically safe or non-incendive ratings. These peripherals are designed for harsh or hazardous working conditions and combine the required ruggedness with the feel of a standard desktop keyboard. The requirements for the area's classification and division will dictate if an intrinsically safe or non-incendive device will be necessary. These units are connected – via barriers – in the protected/purged enclosure.
Maintenance: Accessing the electronics inside of a purged enclosure is inevitable. Maintenance personnel and/or end users need to be aware that they simply cannot open the enclosure without taking certain safety precautions. It is always imperative for personnel to check the area to determine if hazardous gases are present. If hazardous gases exist, the system operator must shut down the equipment, before accessing electronics inside of the computer enclosure.
As a system designer, the best practices for specifying electronics and computer enclosures in hazardous environments include checking the systems overall rating (classification and division), as well as researching the manufacturer providing the system solution. Always choose a manufacturer that has an extensive experience of how to safely enclosing electronics in a hazardous area.
It's important to note – if a company chooses the wrong solution, the results can be disastrous.

HAVE QUESTIONS?  LET US KNOW HOW WE CAN BEST ASSIST YOU! CONTACT AN 'ITSENCLOSURES EXPERT' AT 1-800-423-9911 -or- SEND US AN EMAIL:  INFO@ITSENCLOSURES.COM
https://itsenclosures.com/wp-content/uploads/2020/07/purged-computer-enclosure-nema-4x-stainless-steel-TITAN-ITSENCLOSURES.jpg
513
800
Matt
https://itsenclosures.com/wp-content/uploads/2019/11/ITSENCLOSURES-CELEBRATING-35-YEARS-OF-EXCELLENCE-e1611954113367.png
Matt
2020-07-08 11:34:01
2020-07-08 12:53:38
Computer Enclosures for a Hazardous Environment