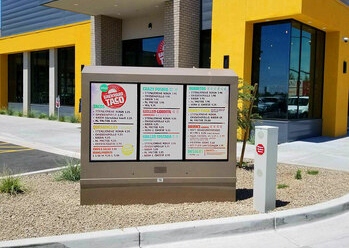 Mt. Pleasant, PA (July 31, 2017) – With over 10 years of outdoor LCD enclosure experience, ITSENCLOSURES continues to proudly deploy outdoor digital signage menu boards at many well-known quick service restaurants (QSRs) throughout America, Canada, and the Caribbean. Backyard Taco, located in Gilbert, Arizona, is the latest quick service restaurant to install ITSENCLOSURES' innovative ViewStation QSR three screen digital menu board. According to the Backyard Taco website, the family owned restaurant strives to make the most delicious tacos with the best ingredients, "Our recipe for success is always fresh ingredients and our mesquite grill. It's a combo that gives us the authentic taste of Tacos al Carbon. We keep our menu simple, because we only offer what we do best."
Opening a new location and wanting it to be state-of-the-art, Backyard Taco contacted ITSENCLOSURES about installing a dynamic, digital signage menu board in the drive-thru. The outdoor digital menu board incorporates three high bright LCDs (2,000 nit) in portrait orientation. Already utilizing digital menu boards on the inside of the restaurant and in portrait orientation too, Backyard Taco was able to use the same menu content on the outside, thus saving time and money for the restaurant.
ITSENCLOSURES solution utilized three 47" monitors and a 6,000 BTU air conditioner to combat the hot, desert weather found in Arizona for most of the calendar year, especially during the Summer months. To provide a water tight seal, the digital signage body (powder coated light brown) is marine grade aluminum and welded aluminum. The large viewing window is laminated glass with anti-reflective coating on both sides, providing 99% light transmission and UV protection. In addition, the front cover is hinged at the top and supported by gas springs for front access to all three displays. A rear door provides access to internal electronics, as well as, power and data entry locations. Specific, heavy-duty gasket is installed around the glass to keep the cool air inside of the digital signage and prevent the enclosure glass from fogging up.
President and Owner of ITSENCLOSURES, JT Spangler, knew that his company was prepared for the Arizona heat, "We installed a number of outdoor digital signage menu boards at another popular quick service restaurant in Arizona during 2011. We are aware of the challenges you need to overcome to combat against the high temperatures and strong sunlight exposure for an outdoor digital menu solution.  Our production team ensured the enclosure configuration will withstand any environment."
Royal Sign Company, located in Phoenix, Arizona, was hired by Backyard Taco to install the digital signage boards in the drive-thru. ITSENCLOSURES supplied the sign company with directions on how to install the 3×1, including the size of the footer, location of anchor bolts, and running the electric and the Cat 5 cables properly.
Mr. Spangler added, "Our goal is to provide outdoor digital signage menu boards to every quick service restaurant in the United States. The ViewStation QSR product line can withstand harsh weather conditions and continue to shine. The high-bright monitors used in our enclosures can be seen by drive-thru patrons, even in direct sunlight. All in all, digital menu boards are a win-win for the restaurant and the customer."
ITSENCLOSURES offers a 3-year warranty (with the option of 5 years) on all components of the outdoor digital signage.
For more information on ITSENCLOSURES' large array of products, visit www.ITSENCLOSURES.com, send an email to info@itsenclosures.com, or call 1-800-423-9911 to speak with Jennifer Bissell, Director of Sales & Marketing.
https://itsenclosures.com/wp-content/uploads/2017/07/backyard-taco-3x1-outdoor-digital-menu-boards-viewstation-itsenclosures-e1565709518370.jpg
248
349
Sydney Patton
https://itsenclosures.com/wp-content/uploads/2019/11/ITSENCLOSURES-CELEBRATING-35-YEARS-OF-EXCELLENCE.png
Sydney Patton
2017-07-31 15:16:12
2020-03-31 08:53:48
ITSENCLOSURES Deploys Digital Signage at 'Backyard Taco'