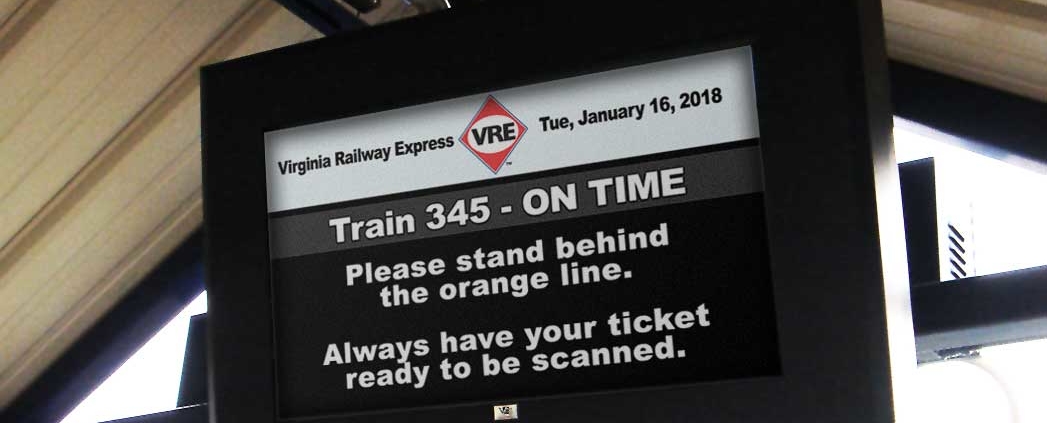 Virginia Railway Express desired to upgrade out-of-date LED scrolling signs to dynamic outdoor digital signage.
VIRGINIA RAILWAY EXPRESS SYNOPSIS:
According to the Virginia Rail Express (VRE) website, "VRE provides commuter rail service from the Northern Virginia suburbs to Alexandria, Crystal City, and downtown Washington, D.C., along the I-66 and I-95 corridors. Services began in 1992, operating 16 trains from 16 stations and carried, on average, 5,800 passengers daily. Now, VRE operates 30 trains from 18 stations and carry, on average, 20,000 passengers daily."
HOW DID THE VIRGINIA RAILWAY EXPRESS FIND ITSENCLOSURES:
Virginia Railway Express contracted International Display Systems (Sterling, Virginia) for an outdoor digital signage project to upgrade a total of 18 train stations. In the past, International Display Systems had worked with ITSENCLOSURES on previous outdoor enclosure projects and knew that ITS was the right company to design and fabricate weather-proof enclosures.
PROJECT:
In the Fall of 2007, Virginia Railway Express desired to upgrade existing, out-of-date LED scrolling signs to dynamic outdoor digital signage. The signs would be used for train schedules (up-to-date on-time or delay communications) and any pertinent passenger announcements.
CHALLENGES:
With Virginia temperatures ranging from below zero to nearly 100 degrees Fahrenheit, VRE recognized the need for outdoor LCD enclosures that would protect against weather extremes, environmental conditions, and potential vandalism. The train stations contained various sizes and forms of beams and poles, so a variety of enclosure mounts would need to be utilized for the project. Thermal management would also be essential throughout the planning stage, so that the screens would not freeze in the winter and/or power down during the sweltering summer months.
SOLUTION:
ITSENCLOSURES installed numerous ViewStation single and double-sided outdoor digital signage (powder coated black) that housed 40″ monitors. The key-lockable outdoor digital signage were mounted to beams on the ceiling with drop pipes and most of the mounts required a suspension assembly or arm support to install an air conditioner. Each outdoor digital signage solution incorporated a 1,400 BTU outdoor air conditioner with a built-in 450-watt heater. VRE worked with ITSENCLOSURES to upgrade all of their stations with eye-catching and state-of-the-art ViewStation LCD enclosures.
SUMMARY OF PROJECT:
"The ViewStation by ITSENCLOSURES' enclosures [were] the perfect product in support of the new International Display Systems (IDS) Variable Message Sign System installed for the Virginia Railway Express. ITSENCLOSURES delivered both a high quality/value environmental enclosure with excellent design and integration support services. IDS and the VRE are very pleased with the end product." Robert Keelor – Vice President, International Display Systems
In 2011, VRE placed another order for two, double-sided 42" outdoor digital signage Viewstation Arrays.

ADDITIONAL PRODUCT INFORMATION:

HAVE QUESTIONS?
Let us know how we can best assist you! Contact an 'ITSENCLOSURES expert' at 1-800-423-9911 -OR- email: info@itsenclosures.com
https://itsenclosures.com/wp-content/uploads/2019/11/Virginia-Railway-Express-VRE-ViewStation-Universal-LCD-Enclosure-ITSENCLOSURES.jpg
633
1047
Matt
https://itsenclosures.com/wp-content/uploads/2019/11/ITSENCLOSURES-CELEBRATING-35-YEARS-OF-EXCELLENCE-e1611954113367.png
Matt
2019-11-06 15:46:59
2020-03-26 15:11:09
Virginia Railway Express - Outdoor Digital Signage