Considering an outdoor digital deployment in the New Year? As prices slowly fall on digital signage, enclosures, LCDs and content, more and more Quick Service Restaurant's (QSR) are deciding that it is finally time to "go digital" both indoors and out. As Ben Sillitoe discussed in Essential Retail, "Research group IHS released a study in the summer, which predicted that digital signage revenue is set to grow by 10% year [to] year in 2015 and a further 7% in 2016.
The organization's Digital Signage Industry Market Tracker indicated that, as the total cost of the technology, continues to decrease each year, expanded deployment is becoming more feasible for a variety of industry sectors." Starbucks is a great example of a company that will be getting into the game… in a big way! The coffee giant plans on adding 2,400 outdoor digital menu boards in the next year.
With already proven indoor digital signage at many QSRs (McDonald's, Wendy's, Burger King, Dunkin' Donuts, KFC, Taco Bell) across America, outdoor signage does not have to be a tremendous mountain to climb. In fact, some enclosure fabricators are now offering outdoor enclosures that are landscape oriented, which makes the transition from indoor to outdoor that much simpler.
The content does not have to be reimagined, resized, revised, and reworked. It is already completed! Content is just one area that must be explored when planning a digital strategy. What are the five most important aspects of digital to consider from the very beginning?
5 Tips to Make Outdoor Digital Menus a Huge Success:
1. Deploying digital outdoors requires a plan.
An effective outdoor digital signage installation requires more than a media player, all-weather enclosure, LCD display and creative content. Considerations for cabling, power sources and the existing footer size/conditions are extremely important prior to arriving on site to switch from static to a digital menu. A site survey should be completed before any decisions are made, because location matters. Just because the static menu boards were in the same location for twenty years does not mean that the new digital menu board can be installed in the exact same location.
2. The hardware matters.
In theory, it is possible to run a menu system for a short period of time with a run-of-the-mill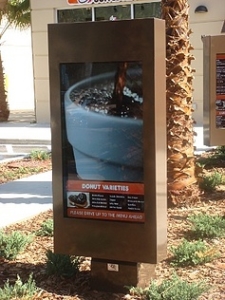 $500 consumer grade screen from a big box store and a $200 media player. However, it is inevitable this 'path of least resistance' solution will fail in an extended amount of time, which means that you will need to find another solution – this will cost more money in the long run.
Consumer grade electronics are simply not meant to operate for an extended period of time, especially at places like Taco Bell with their breakfast, lunch, dinner, and fourth meal options. In fact, the consumer electronics' warranty clearly states a clause cautioning over-usage. The chosen media player should include solid state components and LCDs need to be commercial-grade and feature 1500 nits of brightness or greater to be viewed outdoors.
3. Content is king.
A strong, digital content strategy is extremely critical to the overall success of the outdoor menu board project. A savvy team of experts should create appealing content that will ultimately increase sales in the drive-thru lane.
Emily Carroll explains the importance of content in Digital Signage Today, "With digital solutions, you have the power to change information, menu items or the dates of events, and have it update on-screen immediately." However, the call-to-action should be well thought out, because flashy or animated content is worthless, unless it has a purpose. Ms. Carroll adds, "All this beautiful animation and interactive content is meaningless if you don't convey a message to the end-user. Not only do you have to tell the user something about your product, you have to tell them the next step to take… If you don't have a call to action, then there's no way to turn the viewer into a customer."
Also, keep everything current and up-to-date, because a stale menu board can become an ineffective menu board. Sean Matthews writes in his blog, The Top 7 Mistakes Once You Have Digital Signage, "In addition to keeping content fresh, you need to keep your content management software fresh as well. New software features will let you do more with your messages more efficiently. And, don't forget to update hardware once in a while, too."
4. Technical support is important.
Planning on deploying digital outdoors at multiple store locations? A strong technical support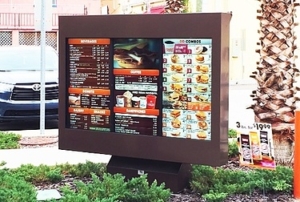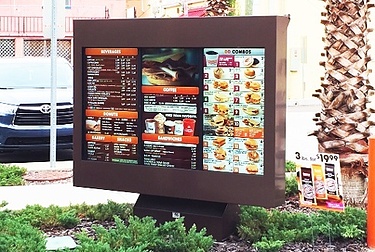 team is crucial. Before deciding on a software partner, evaluate the ease of use, reliability, serviceability, and scalability of the hardware. With that being said, it is important to keep the menu boards void of clutter and stick with the overall message of selling hamburgers, fries, shakes and soft drinks. It can be tempting to throw everything on the screen and see what sticks, but this can actually have a negative effect.
Sean Matthews of Digital Signage Today explains that less is more when it comes to digital signage solutions, "Your software comes with a lot of options, but you don't need to show everything at once. Remember that your goal is to deliver information. Your message can get lost if you have your screen packed with so much that viewers can't pick out the different things you're telling them." Always remember that the fundamental objective is to get people through the drive-thru rather quickly. Too much information on the screen can be overpowering and turn off the customer.
5. Consult a menu board expert.
Choosing the right partner is not a small task and can quickly become overwhelming. With a little research, the correct outdoor digital menu board solution will include partners that are experienced with environmental LCD enclosures, offer commercial-grade electronics and provide a strong support system for content. Inquire with possible suppliers where their actual products can be seen "in the field" and/or working in a local drive-thru, because it always helps to actually see (and even touch) the digital menu boards. By observing for a few minutes, you will recognize the quality and durability. Never let price guide your decision. When deploying outdoor digital menus, experience always speaks for itself.
As with any large purchase, do the necessary homework to keep everything in budget and within the parameters set forth in the beginning. Tasks should be noted and deadlines should be set. As the blog 'Mistakes That Cause Signage Disasters' explains, "Many projects fail simply because they have been rushed. If you are investing money in a signage project, then it is worth making sure you are 100% happy with the finished product… Creating a successful digital sign network takes careful planning."
https://itsenclosures.com/wp-content/uploads/2015/10/5-Tips-for-Deploying-Outdoor-Digital-Menu-Boards.jpg
720
1280
bzimmerman
https://itsenclosures.com/wp-content/uploads/2019/11/ITSENCLOSURES-CELEBRATING-35-YEARS-OF-EXCELLENCE-e1611954113367.png
bzimmerman
2015-10-30 10:16:35
2020-03-31 08:50:16
5 Tips for Deploying Outdoor Digital Signage Boards